Plymouth Albion: James Shanahan earns England Counties role
Last updated on .From the section English Rugby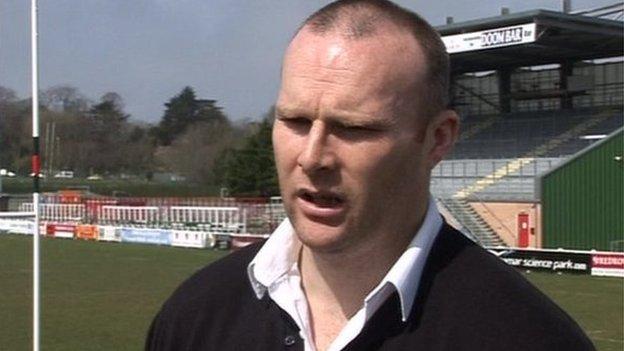 Plymouth Albion coach James Shanahan has been appointed as the new backs coach for the England Counties side.
The 36-year-old will take up the role alongside his duties at Albion for the next two seasons.
"I've always been a big fan of the England Counties so it was a no-brainer to take the opportunity to become part of the set-up," said Shanahan.
"I'm looking forward to coaching an international side and working with the best players in the National Leagues."
Shanahan, who replaces Jan Bonnet in the role, will support head coach Steve Pope with games against the equivalent France and Ireland sides scheduled for 2014.
Pope and Shanahan previously worked together during their time coaching at Cambridge University.
He added: "There are lots of very talented players who I think could play in the Championship and it's about giving them the chance to prove themselves on the big stage.
"My background gives me a good understanding of players in those leagues and the style of play which will be a huge benefit for both me and the England Counties.
"I feel honoured and privileged to get the chance to coach an international team, especially one that means a lot to me having played for them in 2001."
Shanahan joined Plymouth as head coach in April and has also been director of rugby at Cambridge and coached Old Albanians, Cambridge University and Hertfordshire, who he led to the County Championship in 2012.
As a player, Shanahan represented Plymouth, Exeter, Bedford Blues, Cornish Pirates, Cambridge and Old Albanians.
Plymouth Albion chairman Graham Stirling added: "On behalf of all at Plymouth Albion we would like to congratulate James on his appointment as England Counties backs coach.
"We are delighted for him and it also reflects well on Albion, a true win-win. We wish James every success and he can count on our full support."