Dylan Hartley: Northampton captain grateful for another chance
By Graham McKechnie
BBC Radio Northampton sports editor
Last updated on .From the section Rugby Union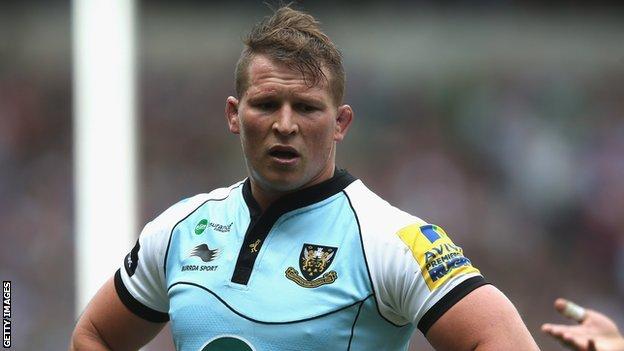 Northampton captain Dylan Hartley says he wants to repay the faith coaches of club and country have shown in him.
Hartley told BBC Radio Northampton: "I'm extremely thankful for the chances I've had with various coaches.
"With Stuart Lancaster and Graham Rowntree at England, and Jim Mallinder here, there are loyal people sticking with me. I can't let them down."
In May's final, Hartley was already on a warning for arguing with Premiership final referee Wayne Barnes when he was shown a red card for offensive language and, according to the official, calling him a "cheat".
And Hartley knows there will be no further chances. He added: "Especially with Stuart, if there's anything else, it's the end of the road for me with England.
"I understand it can't be blind faith. I let Saints down because I wasn't there when they needed me.
"That will always hang over me. If we'd had 15 men on the field, we would've won that final."
Hartley, who has made 171 first-team appearances and won 47 England caps, says he considered resigning the captaincy at Franklin's Gardens.
He said: "There was a stage when I sat down with Jim and said, 'do people want to see a change in captain?'
"I had it clear in my head that I'd probably step down. I'd still be a good player, I'd still contribute but I didn't want that hanging over the new-look Saints, because this year we have a squad that can contend.
"[But] Jim and the coaching team have picked me."
Hartley says no-one is hurting more than him as a result of the red card and ban.
"I'm not going to go around and apologise to every single supporter," he said.
"I'm very aware that it's the fans we play for and that they're very passionate about the game.
"But no-one is as passionate as me. I let my team-mates down. I lost the Premiership final and a Lions tour as well."
As for the sending off, the Saints hooker says his comments were directed at Leicester's Tom Youngs.
"I apologise for the outcome but when I, hand on my heart, know what I said and who I directed it at, I find it hard to apologise for that," said Hartley.
"Having been through the disciplinary process, I can see how it was interpreted and I've received a ban.
"You go through different stages of reflecting, a bit of mourning maybe. You're a bit upset then you re-focus and I've been through all that. I want to make a good impression come the start of the season."