England Women lose 27-13 to Canada in Nations Cup final
Last updated on .From the section Rugby Union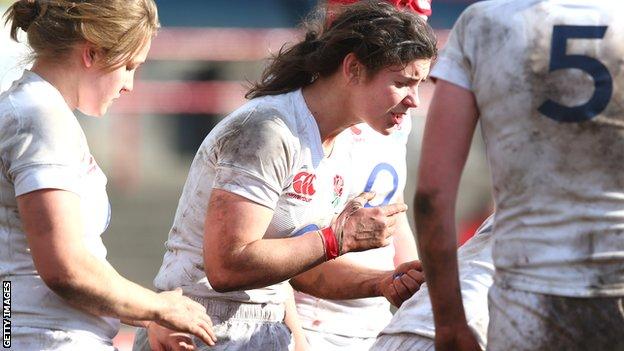 England Women's defence of the Nations Cup in Colorado ended with a 27-13 defeat in the final against Canada.
Despite losing 29-25 to the same opponents in the group phase, England still made the final due to wins over South Africa and the United States.
A young and inexperienced squad, with 11 new caps, struggled throughout in the final against a shrewd Canada, who scored three tries to England's two.
Laura Keates and Victoria Fleetwood were the England try scorers.
The Canadians broke free to score under the posts after only three minutes and though Ceri Large struck a penalty and Keates muscled over following a good line-out, catch and drive, England trailed 14-8 at the break.
Fleetwood, playing out of position at flanker, took a good inside ball and drove over the line to reduce the deficit to 20-13 but Canadian wing Bianca Farella showed impressive pace for her second try of the match to secure victory.
Acting England Women's Head Coach Graham Smith said: "This was a great effort by the players in a hugely physical match with England giving it their all. Canada were the better team today as they possessed the superior power and pace, and at times they outmuscled us at the breakdown.
"We may not have defended our title but for many reasons this has been a successful tour. All of us will be better for the experience and we look forward to meeting them again soon."
England: Kay Wilson (Bristol), Lydia Thompson (Worcester), Amy Wilson-Hardy (Bristol), Lauren Cattell (Saracens), Georgina Roberts (Darlington Mowden Park Sharks), Ceri Large (Worcester), Fiona Davidson (Richmond), Rochelle Clark (Worcester), Emma Croker (Richmond), Laura Keates (Worcester), Becky Essex (Richmond), Rowena Burnfield (Richmond), Isabelle Noel Smith (Bristol), Victoria Fleetwood (Lichfield), Sarah Hunter (Lichfield, captain).
Replacements: Mercedes Foy (Thurrock), Claire Purdy (Wasps), Justine Lucas (Lichfield), Zoe Saynor (Bristol), Harriet Millar-Mills (Lichfield), Charlotte Keane (Worcester), Emily Scott (Thurrock), Abigail Chamberlain (Richmond).