Jersey hand captaincy to new signing Alex Rae
Last updated on .From the section English Rugby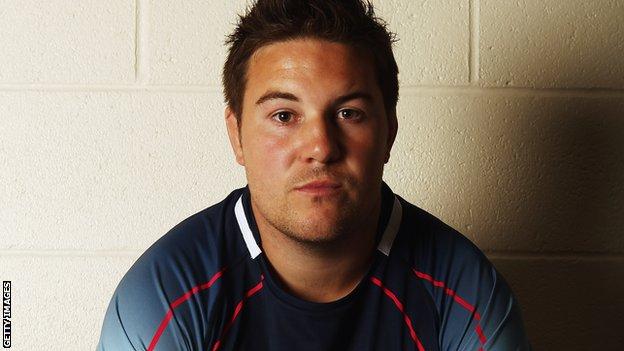 Jersey have named new signing Alex Rae as their club captain.
The 27-year-old lock, who played for Wasps last season, represented England at Sevens as well as at Under-18, U19 and U21 levels.
"It's a huge honour to captain any team at this level and even more so to lead Jersey," said Rae.
"It's been emphasised to us that it's more like representing a country when playing for the island and a great deal of responsibility comes with that."
Rae added: "I've settled in really well and get on with everyone here so it's been a really easy transition. I'm not a massive talker, but if something needs to be said then I'll say it.
"I think the things you do around the club and how you portray yourself on the pitch say a lot, so I'm going to be more about actions than speaking needlessly.
"As a team we need to be at our best to compete in every match at this level and to do that we must individually get our own jobs right.
"Being captain doesn't guarantee you play so I need to concentrate on my playing role to nail down a spot in a very competitive side, which isn't going to be easy.
"I hope that my experiences will make a difference to the team and this year we've signed a few boys who have great experience.
"You can see when we're training that the older boys and the leaders of the group step up quite a bit and help the younger ones along."
Rae spent almost four season with Bedford Blues before his short spell with Wasps last season, where he made four appearances off the bench.