Peter de Villiers says racial quotas are 'waste of time'
By James Peacock
BBC Sport
Last updated on .From the section Rugby Union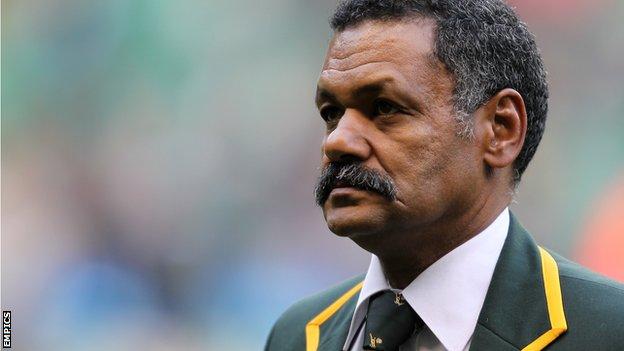 The first black coach of the Springboks says the South African Rugby Union is "wasting its time" by introducing a new racial quota system.
From next year teams playing in the Vodacom Cup - the professional third tier of competition in South Africa behind the Currie Cup and Super Rugby - will have to field seven non-white players in their 22-man squads.
But Peter de Villiers, who was head coach of the Springboks between 2008 and 2011, is against the idea and says it will not help to produce elite players.
He told BBC Sport: "It's the worst decision they could make.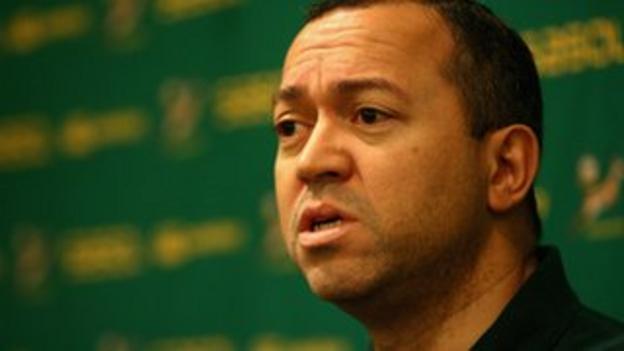 "I don't think the SARU understands its purpose in life.
"Everybody will believe that these players will be picked because people are looking out for them."
The 14 provincial sides who will bound by the new rules will have to play five of the seven players in their starting XV.
Two of them will have to be forwards.
In a statement, SARU president Oregan Hoskins said the aim was to provide opportunities for young emerging players, particularly black players.
He added: "The intended outcome is an increased pool of black talent from which Currie Cup and Super Rugby coaches can select and - in due course - more options for the Springbok coach."
Although there has never been an official quota system in place for Super Rugby teams or the South Africa national side, they accept that they cannot field all-white teams.
There are currently nine black players in the 30-man South Africa squad for the Rugby Championship, which gets under way on Saturday.
Some teams that play in the Vodacom Cup such as Western Province, Boland and Border are already on target to meet the guidelines set out by the SARU - but there are big disparities between clubs.
Western Province often fielded nine black players in their 22-man squad and made the semi-finals of the competition last year - but the team that won the tournament, the Golden Lions, had just two.
Across the division the number of non-white players will increase from about 6% to 33%.
De Villiers, who is now in charge of rugby at the University of Western Cape in Cape Town, said he never felt the need for a quota system when he was in charge of the Springboks.
He added: "They [SARU] make people believe they care about who is coming through the system - but they only do that to tick some boxes.
"They like to report these things but you don't see the difference in reality.
"It's not the first time they have tried to put these things in place and they have never worked.
"It will only ever work if there is a transformation period in people's hearts.
"If there isn't I think they are wasting their time."
De Villiers stood down as head coach of South Africa after the World Cup in 2011.
His time in charge of the national side was colourful and controversial, partly down to his outspoken nature and sometimes because of his fractious relationship with sections of the media.
Hoskins confirmed after his appointment in 2008 that De Villiers had been an 'affirmative-action' choice.