Ospreys chairman Roger Blyth warns of France move pitfalls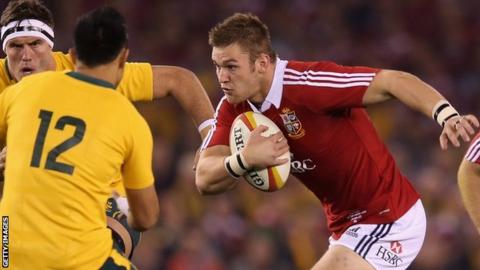 Ospreys chairman Roger Blyth says financial rewards should not be the only factor players consider when contemplating a move to France.
The Welsh region have lost a number of high-profile players to France in recent years including Wales stars Mike Phillips, Lee Byrne and James Hook.
But Blyth believes Welsh players can prolong their careers by staying in Wales rather than moving to France.
"If they do go further afield they're sort of flogged," Blyth said.
The former Wales full-back contrasted Wales and British and Irish Lions flanker Dan Lydiate's introduction to life with French club Racing Metro to what Ospreys and Lions lock Alun Wyn Jones can expect as the season begins.
"I notice with interest that Dan Lydiate has already played two full games for Racing Metro," said Blyth.
"By the time Alun Wyn Jones plays [for Ospreys] - he's earmarked to miss the first couple of games - Dan Lydiate would have played six games.
"There's an example of 'it's not just about the money, it's about your longevity of career'.
"Clubs in France play an awful lot of games and there's no doubt about it, if they pay top money for a player they want them to play every game and the players are aware of this."
Blyth admitted the Welsh regions "would be foolish to try and match the money pound for pound" but insisted there are "other advantages" to staying in Wales.
"We firmly believe it's not just right that they play in Wales; we firmly believe they're looked after very, very well in Wales," he said.
"There's a lot of release periods to go and prepare for internationals, which helps in the success of the national team and also the number of games they play."
Ospreys chief executive Andrew Hore recently admitted the region could find it hard to keep hold of some of their Lions stars.
Lions and Wales tight-head prop Adam Jones has started negotiations with the region over a new deal but admitted he would consider a move to France.
The prop, and locks Alun Wyn Jones and Ian Evans, all have a season left on their current contracts at the Liberty Stadium.
Blyth said keeping top stars at the region would be a challenge and the support of the Welsh Rugby Union would be crucial.
"You've got to sort out whether there's enough finance within Welsh rugby to keep them here," Blyth added.
"We're in deep debate with the Union at the moment and this is obviously one of the main topics of conversation.
"I think it's got to be a joint effort between the Union and ourselves to retain as many of these players as we can in Wales."