Worcester: Wales forward Thomas appointed captain at Sixways
Last updated on .From the section Rugby Union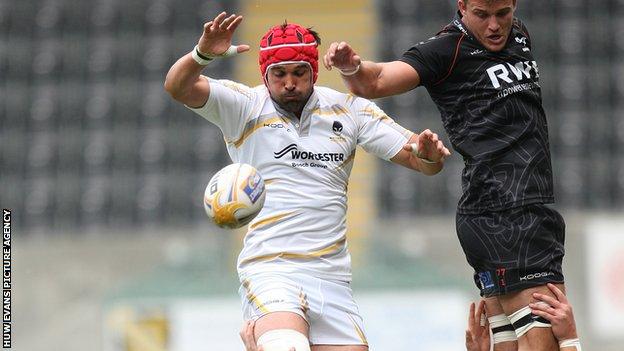 Jonathan Thomas has been appointed captain at his new club Worcester following his summer move to Sixways after a decade with Ospreys.
"It's not something I really thought about but I was never going to turn down such an honour," said the 67-times capped Wales international.
Thomas was new Warriors coach Dean Ryan's second signing when he agreed to move to Worcestershire in May.
But, in total, Thomas has become one of 13 new summer signings at Sixways.
And eight of them were brought in by Ryan's predecessor Richard Hill prior to his late season sacking on 17 April.
"One of the things I was aware of before I joined the club and one of the things Dean spoke about when I first met him was that it's a clean slate for everyone," said Thomas.
"Dean has come in and he wanted to create a really good environment.
"When you're trying to create something special like we are at Warriors it's about everyone playing their part and trying to create a positive environment for the team.
"And I will look to pass on my experience. Something I've always expected from captains I've played under is to lead by example on the field. I think that's the most important thing."
Thomas has already captained Worcester in their pre-season friendly opener against Rotherham Titans, as well as Saturday's meeting with his former club Ospreys, when the Warriors had to survive a fire on the team coach on the M5.
And Thomas admits that he expects to feel expecting to feel the heat of playing in England, rather than in the RaboDirect PRO12, where there is no automatic relegation and not the same "intensity" and "ruthlessness".
"I don't like the debate about what is the better league," he told BBC Wales. "Who knows?
"The RaboDirect has some of the best European teams. You play Munster and it's tough, but certainly I expect more intensity, week in, week out, there is no doubt about that.
"There are no tougher places to go than Munster and Leinster in RaboDirect. But it doesn't have that intensity every week.
"Everyone you talk to talks about the intensity and how ruthless the league is and how it's physical, week in, week out.
"The difference is that people are playing for their livelihoods. If Worcester get relegated at the end of the season, people lose their job.
"That doesn't happen in the Celtic League, because there is no relegation.
"People are scrapping for their jobs, week-in, week-out, and there are no easy games.
"I'm looking forward to it, it's a new experience with new venues and that is something good to me at my age."