Cornish Pirates: Josh Lewsey to step down from chief executive role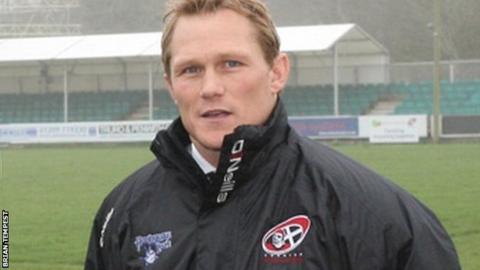 Cornish Pirates have announced that former England rugby star Josh Lewsey will stand down from his role as acting chief executive next month.
The 36-year-old was appointed to the role on a temporary basis in March.
Lewsey has worked as a management consultant at PricewaterhouseCoopers and as an equities trader at CitiBank since his retirement.
The Pirates say the 2003 World Cup winner will stay on as an advisor to the board on a long-term basis.
"As from October, Josh will be working elsewhere but he has agreed to help the club continue its new approach and hopefully achieve the long-term aim of becoming a Premiership club," read a statement from club owner Dickie Evans.
Cornish Pirates business and finance controller Rebecca Daniell will take over as acting chief executive from October until the new year.
"At that time we will have a much clearer idea of the impact on finances of the change to Friday night floodlit rugby, the new marketing initiatives and the impact of Josh's input on the team performances," added the statement.
"On behalf of the board I would formally like to express our appreciation for Josh's huge impact on our club and rugby in the Cornwall republic generally.
"He has always had the financial constraints of any player recruitment in his thinking processes and is well aware of the financial constraints surrounding a club in the west that doesn't have the facilities or catchment area to generate funding for bigger squads/better facilities.
"Those who have met him will know he is a driven man and a modern day Pied Piper. Let us hope all his hard work in the last six months results in top-class rugby at a packed, exciting venue. Josh certainly deserves this."
One of Lewsey's main focuses was on driving up attendances at the Pirates; the forthcoming season will see the club play many home games on Friday evenings as they attempt to attract a bigger following.
Lewsey won 55 caps for England before retiring from international duty in December 2008.