Cornish Pirates: Josh Lewsey proud of club's progress
Last updated on .From the section English Rugby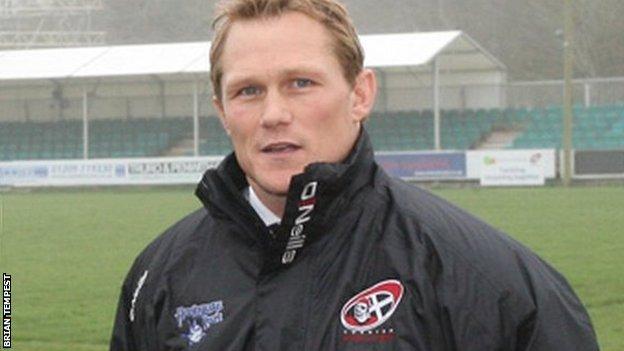 Josh Lewsey, who stands down as Cornish Pirates chief executive next month, says the club has made "massive strides" during his time at the helm.
The former England star was brought into the club in March on a temporary basis, and will stay on as an advisor.
"This isn't about me - it's about the club and county and it's a long-term process," he told BBC Radio Cornwall.
"This area deserves to have a seat at the the top table and it's our duty as the only pro entity here to do so."
Lewsey, who won 55 caps for England before retiring from international duty in December 2008, said he had spent a lot of his time at the Pirates developing relationships with the wider rugby community in Cornwall.
"Hand on heart I don't think we could have tried any harder," he continued.
"I joke with [club owner] Dickie Evans that it was meant to be a part-time three-days-a-week job, but it's ended up being about nine-days-a-week!
"We're working collaboratively with the people from the Cornwall rugby union and with all the clubs from the county.
"For instance, it's nice to see Cornish Pirates training at Redruth - in the past there's been some history between the two clubs but now they're all working to mutual benefit."
The 36-year-old, who has worked as a management consultant and an equities trader since his retirement, is happy to remain part of the club as an advisor to the board.
"My commitment to not just the club but to rugby in the county is for the longer term and I'd love to see that prosper," he said.
"I'm delighted to be asked to maintain my commitment there and I will do so for the long term.
"I want to see the right thing done in this part of the word."
He added: "This team is unlikely to win the Championship this year - that's not the plan, the plan is to build progressively.
"We recruited a lot of young guys and guys with connections to Cornwall and we hope the media support that and support the style of rugby were going to try to play."