Cliff Morgan: Former Wales fly-half and BBC broadcaster dies aged 83
Last updated on .From the section Rugby Union293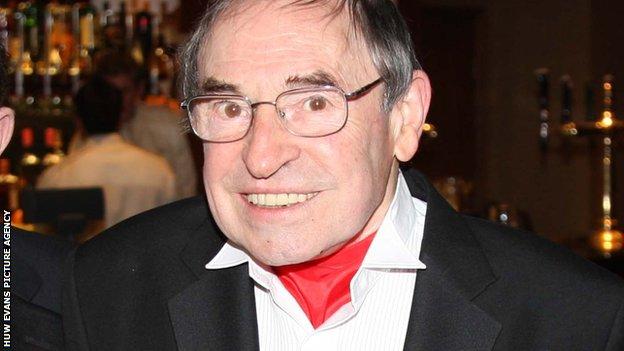 Wales rugby international and broadcaster Cliff Morgan has died at the age of 83.
Morgan was one of the most talented fly-halves in the game, before becoming a respected commentator, writer and head of BBC outside broadcasts.
He won 29 caps for Wales, his first in 1951, captained the British and Irish Lions and also played for Cardiff.
Morgan will be forever associated with his commentary on the Barbarians v All Blacks match in 1973.
He is particularly remembered for his description of Gareth Edwards's famous try: "Brilliant by Quinnell. This is Gareth Edwards; a dramatic start. What a score!"
His easy-going charm and passionate love of sport was familiar to both rugby supporters and radio and television audiences.
He enjoyed a successful career as a mercurial fly-half for Cardiff, Wales, the Barbarians and the Lions before finding a new career in broadcasting.
Clifford Isaac Morgan was born on 7 April, 1930 in the village of Trebanog in the heart of the Rhondda.
The son of a coal miner who turned down an offer to play for Tottenham Hotspur, the young Cliff combined a love of singing and woodwork with a burgeoning ability on the rugby pitch.
His rugby master played the young Morgan at every position from prop to wing, before allowing him to excel at fly-half, a role which could have been created for him.
Short, slightly stocky and with an innate sense of balance, Morgan cut through opposition defences, often cheekily showing the other sides' players the ball before darting away and passing it.
Aged 19, he was picked to play for Cardiff and proved to be an inspirational presence, who, within a year, won the first of 29 caps for his country.
He was a pivotal member of the Grand Slam-winning team of 1952, more than holding his own alongside giants of the game like Bleddyn Williams and Ken Jones.
The following year, Morgan inspired first Cardiff, and then Wales, to victory against the mighty New Zealand All Blacks.
In 1955, he dazzled for the Lions on their tour of South Africa, scoring a crucial try against the Springboks in Johannesburg.
The Lions' 23-22 victory, in front of a crowd of 96,000 in the rarefied air of the Transvaal, was considered by Morgan to have been the greatest day of his sporting life.
Three years later, he retired from rugby at just 28, leaving behind many memories and admirers.
He moved effortlessly from player to broadcaster, first with the BBC in Wales before making the move to London.
If anything, his broadcasting career eclipsed his efforts on the rugby field. As editor of Grandstand and head of outside broadcasts, he helped define the way the corporation covered major sporting events.
To the surprise of many of his colleagues, he quit the BBC to edit This Week, the successful current affairs programme on ITV.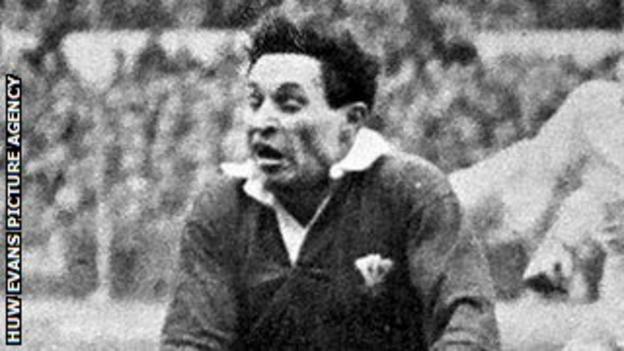 A stroke in 1972 left Morgan speechless and paralysed down one side, but he completed a remarkable recovery when, having returned to the BBC, he commentated on the legendary 1973 match between the Barbarians and the All Blacks at Cardiff Arms Park.
As Gareth Edwards crashed over for 'that try', Morgan's commentary rose magnificently to the occasion: "If the greatest writer of the written word would have written that story, you'd never have believed it."
Ironically, it was rugby's other great voice, that of the late Bill McLaren, which should have told the story of the try, but the Scot was forced to withdraw with flu on the morning of the game.
In many ways it was fitting that Morgan should have been in the commentator's seat. A true Barbarian, he played in the famous black and white shirt before ever being picked for Wales and his view of how sport should be played reflected the amateur ethos.
He was uncomfortable with the flood of money going into sport and openly criticised those players who came to the game with a win-at-all-costs mentality.
A spell as resident captain on A Question of Sport was followed by what for many was his crowning achievement, the 11 years behind the microphone on Sport on 4.
For many Radio 4 listeners, the weekend had not properly begun until they had tuned in to Morgan's perceptive take on the sporting world, delivered in what fellow presenter Des Lynam described as "one of the best broadcasting voices of all time".
In 2007 he received a lifetime achievement award from BBC Wales and a tribute from fellow Barbarian, Tony O'Reilly.
"He's a man apart because of his gaiety, his grandeur, eloquence, because of his skills as a football player and his generosity to other players, which was enormous," said O'Reilly.
Barbara Slater, director of BBC Sport, said Morgan was "an inspiration" to fellow broadcasters.
"Cliff Morgan was not only a superstar in rugby union, but also a pioneer in sports broadcasting and an inspiration to so many of the great voices of BBC Sport," said Slater.
"He was a scholar and a wordsmith, who had a wonderful understanding of the use of language in broadcasting.
"His commentary of the 1973 Barbarians match against the All Blacks, and in particular Gareth Edwards' famous try, was sublime in its simplicity and will be remembered for many years to come.
"Off-air, he played a huge role in the success of BBC Sport in the 70s and 80s, across a number of senior positions, delivering coverage of huge events including World Cups, Commonwealth and Olympic Games.
"He will be sorely missed by all in the sports broadcasting community."