Leicester's Richard Cockerill criticises new scrum laws
By Rob Stevens
BBC London & South East Sport
Last updated on .From the section Rugby Union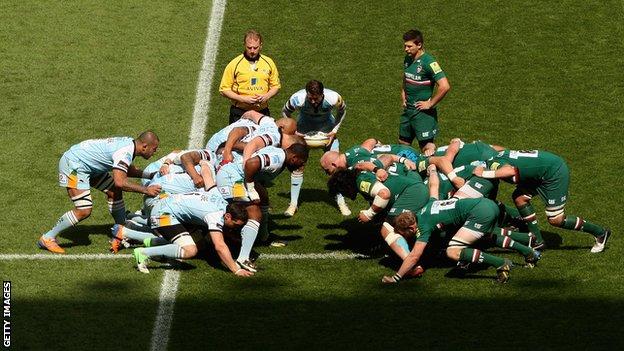 Leicester director of rugby Richard Cockerill has criticised lawmakers for introducing changes to the scrum without consulting Premiership coaches.
A new three-stage scrum engagement sequence will be used this season, while scrum-halves must now feed the ball straight.
"When they change these laws, nobody asks Premiership coaches about the laws of the scrums," Cockerill said.
"Who changes these things and what's their agenda?"
He added: "You'd like to think that the people who make and change these laws consult Premiership coaches instead of just doing it."
The changes have been made as part of a global trial which is aimed at enhancing player welfare by reducing impact on engagement at a scrum
The International Rugby Board's Council have approved the sequence following an evaluation of its implementation at the recent IRB Pacific Rugby Cup.
The changes aim to encourage a more stable platform, which will lead to fewer resets and more successful scrums.
"We've played a couple of games with these laws and it takes a bit of getting used to," Cockerill continued. "It's been messy.
"We're receiving different messages now, but the scrum is still a mess, so we'll have to see how it settles down."
However, London Wasps director of rugby Dai Young expects the new laws to be successful in the long-term as they have been introduced "for the right reasons".
"Everybody realised that they had to do something with the scrum," Young told BBC London 94.9.
"As long as it is refereed to the instructions, I think it will clear up a lot of things. The scrum will still be a contest.
"It will take a bit of getting used to for coaches, players, supporters and referees.
"I'd like to think we'll be looking back at the end of the first month and saying there is a lot more clean possession coming away from scrums and we are not having that constant reset after reset."
Harlequins director of rugby Conor O'Shea believes all Premiership sides will adapt to the changes in time.
"I'm a full-back so I wouldn't like to comment on the technicalities," O'Shea told BBC Sport.
"We've had a couple of differing experiences with it and it'll take some bedding in.
"We went out to Racing Metro who hadn't played under it, with a French referee, and we had no problems.
"The next game we had was a free-kickathon. It'll take time to apply and then we'll see where it is.
"If we just clearly apply the law as it is supposed to be applied, it doesn't matter what it is.
"The difference is the hooker has to strike a little bit more as it is going to go straight down the channel.
"We will reserve judgement for 10 weeks or so and let the season kick off. I'm sure there will be good days and bad days with it."
Cockerill suggested that southern hemisphere sides had put pressure on the IRB to change the laws.
"They say it's for safety, but it looks like the southern hemisphere are just trying to depower the scrum so the ball comes in and out," the Tigers coach said.
"I don't know whether it's depowering the scrum.
"In one of the Rugby Championship games we had two of the best scrum-halves in the world laughing at each other because they were worrying about feeding and getting a red card."
Newcastle director of rugby Dean Richards, involved in the Premiership for the first time since the 'Bloodgate' scandal at Harlequins in 2009, insists the jury remains out on the motivation behind the changes.
"It's been done for the right reasons, for safety reasons so we're told, and hopefully they will come through," he said.
"There's no secret that the southern hemisphere has had agendas in the past, in terms of dealing with the laws.
"You'd like to think that when they've said the changes are for safety reasons, that's the reason they've been made.
"If it's any other reason you'd be disappointed."