Sir Tony O'Reilly pays tribute to the late Cliff Morgan
Last updated on .From the section Rugby Union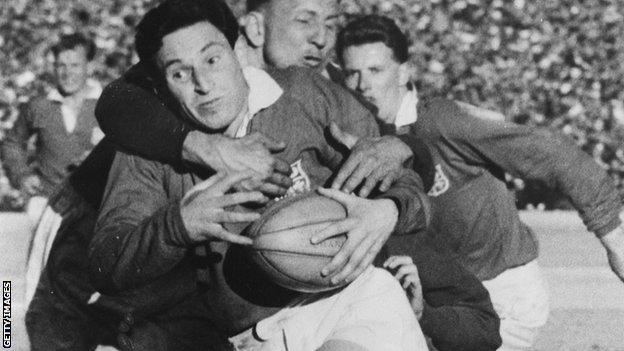 Irish rugby legend and successful businessman Sir Tony O'Reilly has paid tribute to his former British and Irish Lions teammate, the late Cliff Morgan.
Ex-Ireland wing O'Reilly toured with Morgan on the Lions tour to South Africa in 1955
"I suppose that inside the Hall of Fame, there is a special Hall of Fame for the very few," he said.
"Cliff Morgan would be among the first to be admitted, in that he would both honour the game and shape the spirit and comradeship of rugby union football."
Morgan won 29 caps for Wales, his first in 1951, captained the British and Irish Lions and also played for Cardiff and later became a respected commentator, writer and head of BBC outside broadcasts.
O'Reilly won 29 caps for Ireland between 1955 and 1970 and scored 38 tries in 30 appearances for the Barbarians, toured with Morgan on the Lions tour of South Africa in 1955.
"I played on two tours with Cliff—one Lions; one Barbarians. He was never less than great, and he was sometimes essentially transcendentally brilliant," O'Reilly said.
"In the first [Lions] Test since 1938, in Johannesburg in 1955, with 14 men against 15, in front of 110,000 people at Ellis Park, we led 23-22, and South Africa had a conversion by Jack van der Schyff to save the match.
"His kick slid by the outside post and Billy Williams of Swansea turned to Cliff and said: "Cliffie, it's a good thing we went to church this morning!
"Someone asked me recently could he play in any era, and I thought about it and said without a moment's hesitation that he would still dominate the game.
"His pace, elusiveness, kicking, handling, courage and surprisingly, his size—being well over 14 stone weight—would have been as destructive today as it was then.
"Most important, his unquenchable spirit as a leader of back lines which included Dick Jeeps, Jeff Butterfield, WPC Davies, Gareth Griffiths, Bleddyn Williams, and Ken Jones was a dominant one, and as Jack Matthews said: "If you could stay with him, you would score!
"Somewhat like [Will] Genia today in Australia, it was almost impossible to know where he would run next, off either foot.
"He organized and led the choir on both our tours.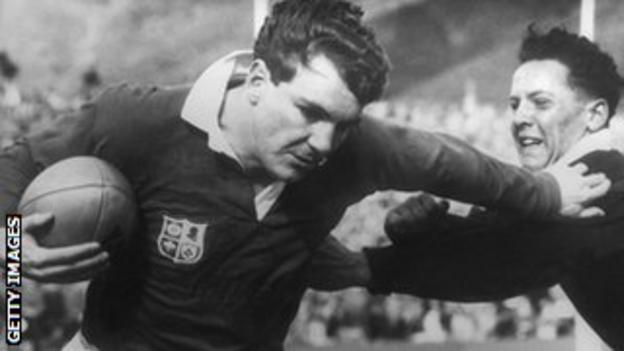 "We were delayed two days at Nairobi and got off at the Jan Smuts Airport, and all 30 players formed the choir to be led by Cliff into what was essentially then the Boer National Anthem, Sarie Marais.
"There were 10,000 people in tears as the team arrived. It was the PR coup of all tours."
Morgan moved effortlessly from player to broadcaster, first with the BBC in Wales before making the move to London, where he was editor of Grandstand and head of outside broadcasts.
"As the voice on the BBC, he could be equalled only by Richard Burton, with whom he was particularly friendly, and Saturday mornings with Cliff on the BBC became a standard diet for great broadcasting in his era," O'Reilly added.
"To have played with the man was a unique experience, but to have known him, to have been his friend, to have toured with him and to have known his family is to know the architecture of rugby and the people of Wales.
"He stood for everything that was good in both."