Newcastle Falcons: Dean Richards keen to avoid media spotlight
Last updated on .From the section Rugby Union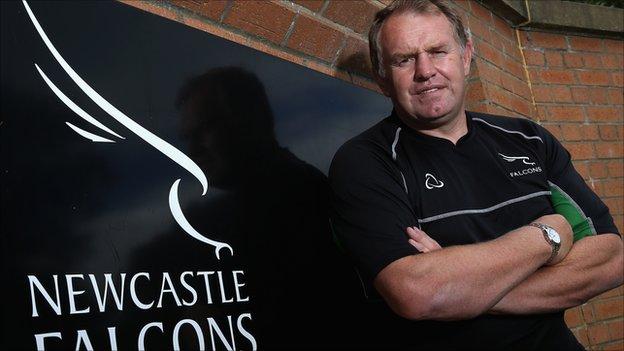 Four years have passed since Dean Richards' presence was last felt in the Premiership, but the Newcastle Falcons director of rugby neither wants nor expects a fanfare on his return.
His route back into the game came with the then-relegated Falcons, whom he led to Championship promotion last season with just two defeats in 26 league and play-off matches.
"I'll probably get as much scrutiny as I did last year in the Championship. Perhaps a little bit more? I don't know," he told BBC Newcastle.
"I've been back in the game a year so I haven't really thought about it that way. There may be different journalists perhaps."
Even if Richards does not feel under the microscope, the fact remains that the television cameras will accompany his and his side's return to the top flight this Friday, when Bath travel to Kingston Park for the season opener.
"I think we were always going to be on the television first of all, especially with [former Falcons coach] Gary Gold having left here a season and half ago, and him being down at Bath," Richards said.
"Add to that some of their signings, some of our signings and the fact we were new to the league - it was always going to be the case.
"It's irrelevant really, ultimately when the players cross the whitewash and get on to the field, it's nothing to do with the coaches, it's how you perform on the day really."
Getting back to the Premiership for both parties proved a drawn-out process, largely down to the play-off system which extended the season until the final days of May.
However, Richards has been swift in his recruitment, adding 10 faces to the squad which lost the services of top points scorer Jimmy Gopperth to Leinster after four years at Kingston Park.
It is a difficult balance - strengthening the squad for a tougher challenge but retaining the spirit of the pool that achieved promotion last term.
"Teams evolve, various coaches have different ideas as to how the game should be played and what qualities they look for in players," Richards added.
"For me, we've got a good group of youngsters coming through and we need a blend of youth and experience to help develop these youngsters to help them be the players of the future going forward.
"When you look at the likes of Carlo [Del Fava], Mike Blair, Phil Godman, Andy Saull, Adam Powell - these sort of boys coming in - two of those boys have been in Premiership-winning sides.
"You tend to understand that those guys have been there, seen it, done it and will offer that experience, but will have a winning mentality about them as well," said Richards.
Falcons' return to the Premiership adds to the geographical spread of rugby union's top tier, along with Sale Sharks on the other side of the Pennines.
In turn, the club is seeking to take advantage of a huge catchment area of support, pushing as far down as North Yorkshire and into Cumbria.
"To be honest that's where our area goes to already, but at the same time there is Leeds down there and we'd love Leeds to come up because we need more of a northern influence in the Premiership," Richards said.
"If that isn't the case then we'll work with them to make sure the influence isn't just North Yorkshire, but with them as well.
"Obviously we have Sale in Manchester as well, but we want to spread our wings as far as possible.
"There is the geographical difficulty with that but at the same time the quality of the players here, the local lads, they don't just come from within five miles.
"Some have travelled huge distances to get here to be given that opportunity, some from Cumbria, some from even further."
The last time Richards brought a team up from the Championship in the shape of Harlequins, they finished second in the Premiership inside three seasons.
A similar feat would be most appreciated at a success-starved Kingston Park.