Women's Premiership: England captain backs revamp
By Sara Orchard
BBC London Sport
Last updated on .From the section Rugby Union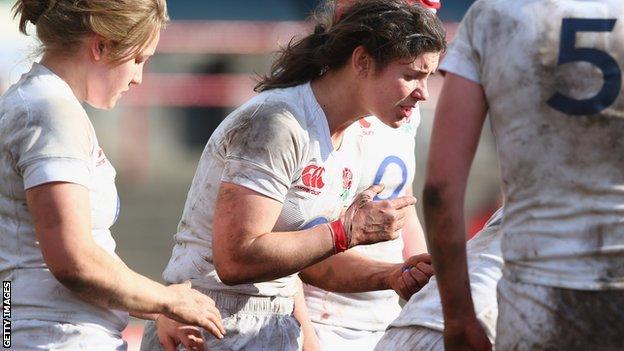 The decision to restructure the women's domestic game has been praised by England captain Sarah Hunter.
The 2013-14 season sees the English Women's Premiership start in September and conclude in January.
England players will then be able to focus on the Six Nations [starting in February] and the 2014 Women's World Cup in France next August.
"It means we have consistency," said Lichfield number eight Hunter, adding that it benefits both club and country.
"For the clubs it's a real positive, especially for a club like Lichfield.
"We've got quite a lot of international players and to have them available for a whole campaign is a real positive.
"Also, as an international it means you can go and play for your club knowing you don't have an England game coming up and you won't need to be rested."
The Rugby Football Union has also decided to scrap promotion and relegation for the 2013-14 season and Hunter is happy with the one-year hiatus.
"It just takes the pressure off everyone. In the past if players had a slight niggle or were aching or bruised, you might have played through because you don't want to let your club down," she explained.
The eight Premiership sides will be also be joined by four clubs from the leagues below to play in a new competition, the Women's Senior Cup. The competition will start during the autumn Test window and then continue during the Six Nations, with semi-finals and finals in March.
Women's rugby across the world is in a state of evolution. Juggling both the focus on Sevens ahead of the 2016 Rio Olympics and the 2014 XV's World Cup has forced many countries to rethink their domestic structures for XVs, with Ireland leading the way.
Last season their club league was reduced to a three-month window, freeing up their internationals from January, and Ireland went on to win their first Six Nations Grand Slam title and qualify for the next IRB Women's World Sevens Series.
This season both England and France are restructuring their domestic leagues. The plans by the FFR have caused huge upset in women's rugby circles on the other side of the Channel but the RFU plans have been well received.
The 2012-13 season saw Worcester win their first Women's Premiership crown to break the dominance of London clubs, including Richmond, who lifted the title three years in a row.
Despite Lichfield and Worcester being arch-rivals, Hunter admits she was pleased to see them at the top of the pile.
"The fact that Worcester went and won it last year has shown all teams that it is feasible," she said. "From a Lichfield perspective we just need to put in consistent performances week in week out."
The opening weekend of the Women's Premiership sees Worcester start the defence of their title away to newly promoted Aylesford Bulls.
Among the newcomers' ranks will be former England captain Catherine Spencer, who retired from international rugby in 2011 but helped the Bulls to promotion last year.
"I joined Aylesford just to play with a couple of friends really but they've done really well to work their way up the leagues and here we are in the Premiership," she said.
"Being back playing at this level was not in my retirement plan whatsoever - I joined for a decent level of rugby but also for a more social side, to enjoy myself.
"But now the Premiership has come along I'm really excited, although I'm not quite as fit as I once was."
The former England number eight admits the Bulls have benefited from relegation being scrapped.
"We've timed it pretty well. This season there is no pressure on us and its very much a learning experience and building a squad," she said.
"It is just a really lovely and fortunate situation, knowing we're guaranteed two years in the Premiership."
Hunter is also looking forward to going head-to-head with her predecessor as England captain.
"We've had a few good battles against each other. It's great to see her back in the Premiership and whatever happens on the pitch I look forward to talking to her about it in the bar afterwards," said the number eight.