Mike Blair column: Glasgow aim to build on last season

By Mike Blair
Former Scotland scrum-half
Last updated on .From the section Rugby Union16
The start of the season is almost upon us with the Rabo Direct and Aviva Premiership getting under way this Friday.
Leagues with contrasting structures bring contrasting styles of play: is the Rabo Direct a better spectacle as there is no pressure from relegation? Or is it the Aviva Premiership: a tighter, more physical, gritty league? We shall see...
For me, a first season in the English Premiership with Newcastle Falcons is something I'm greatly looking forward to.
If my career came to an end and I hadn't experienced this league then I'm sure I would've regretted it.
It's the longest pre-season that I've had in 12 years with my international retirement meaning no summer tour; and I feel I've benefited from it.
Emphasis has been firmly on speed and power along with a few unfortunate trips to the beach for dune sprints.
Having somehow missed 10 from 11 years of 'Murder Hill' at Gullane, with Edinburgh Rugby, it would be fair to say that my inexperience in the sand showed!
A one-minute live boxing bout with someone in your position and a forgettable stairs session at South Shields beach were other highlights...
Traditionally, it's very tough for the team promoted from the Championship to compete with the big dogs of the Premiership but the Falcons have been able to keep most of the squad from last year with a few older heads added to the mix.
Pre-season games have been encouraging with a draw with Bath, a win against Connacht and a narrow loss to Edinburgh. Results aren't everything in warm up games and we are in good position to welcome Bath for our first game of the 2013-2014 season on Friday.
From what I've heard, the two Scottish teams have had very encouraging pre-seasons too.
The emphasis with Edinburgh has been firmly put on strength and conditioning work with rumours suggesting that a ball had not been touched during pre-season until new coach Alan Solomons arrived barely three weeks ago.
Having played Edinburgh last Friday, and seen action from their Northampton game the week previously, I can say with some conviction that they are going 'route one' this year.
The team looked in fantastic shape physically and it looks like the game plan will mirror this, with Scott, De Luca, Denton and Ford being the "go to" men.
Denton especially will provide the main thrust on second phase ball and judging on last Friday's performance he is raring to go!
Alan Solomons's quote about how his process of improving Edinburgh's performances and results will unfold says it all: "We need to sort out the meat before we get to the veg."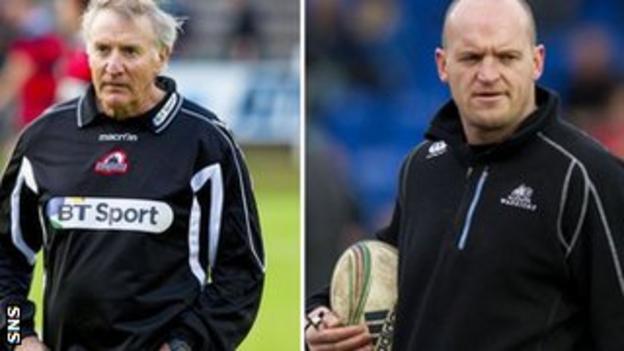 They have a tough opener against Munster away where we will see if the physical game plan will pay dividends.
If the squad can stay largely injury-free with key personnel such as those already mentioned, along with Greig Laidlaw, then I think we'll see Edinburgh spring some surprises this year.
Glasgow are in a very different place to Edinburgh coming into the start of the season.
They look to have a very settled squad and will have great confidence on the back of last season's consistency and a very positive pre-season concluding with a cracking victory over Exeter Chiefs away from home.
Supplementing the inevitable strength and conditioning work, Gregor Townsend has placed heavy emphasis on skills, too, and fitness games have played a major part in their conditioning work.
Their game is built on a solid, imposing defence with Matt Taylor at the helm and the more time Townsend has to implement his attacking style - after an impressive first year as head coach - the more dangerous they will become.
A home semi-final will be their aim this year - and a very achievable one at that.
They start with Cardiff at home which I see them winning. If they can build momentum from game one rather than mid-way through the season like last year then they will be right on track.
And, of course, the British and Irish Cup? Surely Edinburgh Accies to win it…