Pro 12: Alan Solomons targets Edinburgh's defensive weakness
Last updated on .From the section Rugby Union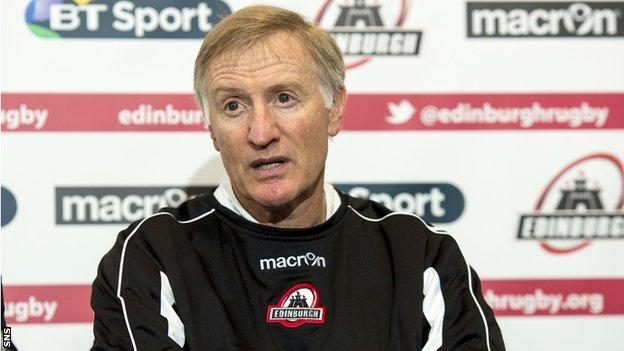 Edinburgh head coach Alan Solomons has targeted improvements in defence as his priority after a in his first game in charge.
The Scots began their Pro12 season 22-6 behind at half-time at Musgrave Park.
"The problem we had in the first half, which put us on the back foot, is that we allowed them to generate momentum.
"That made it very difficult for us to get width on our defence and that is something we're going to work very, very hard on," said Solomons.
The South African, , expects the arrival of new defence coach Omar Mouneimne will improve that situation.
"One must remember that our defence coach, Omar, has only just started," said Solomons.
"This was his first full week and I have absolutely no doubt that, given time, we will sort out that problem.
"Cutting down our errors, especially on restarts, and stopping momentum will make an enormous difference."
Solomons was impressed with his new side's second-half resolve .
"The biggest thing to take away from the game is the character they have shown," he said.
"We were in difficulty, we were under pressure from their momentum, we were unable to get width on our defence and they were cutting us.
"But we came out in the second half and showed tremendous resolve without a lot of our experienced front-line players.
"I think that we showed tremendous character in the second half, where we scored 17 points and they scored 12."
Solomons will make his competitive home debut as Edinburgh coach on Friday, against a Dragons side who opened their campaign by defeating last season's runners-up, Ulster, 15-8.
"Clearly it's a great win that they had over Ulster, who were fantastic last season, so we know we're going to be in for a tough challenge, but we're looking forward to it," added Solomons.