England omit Watmore and Richardson from elite squad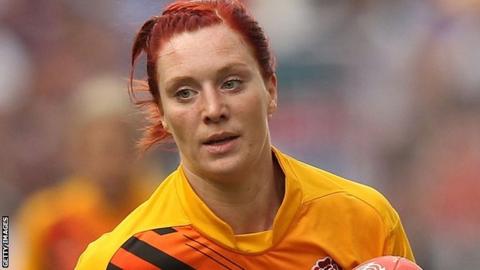 Centre Joanne Watmore and fly-half Alice Richardson have both been left out of England Women's 50-strong elite playing squad for "behaviour" issues.
An RFU statement said the omission of the pair, both 26, was a result of failure to "adhere to and demonstrate the behaviours expected of them in the 2012-13 season".
"To be reconsidered for selection both players must play Premiership rugby this coming season, and demonstrate the high performance standards expected," added the Rugby Football Union.
"The individuals will be monitored throughout the season."
Watmore, who can play centre or full-back, is a former England rugby league player who broke into the England union team in 2012 and has now won four caps.
The dual-code international scored on her union debut against France and impressed sufficiently to secure a starting berth in the victorious three-Test series against world champions New Zealand that autumn.
In the summer of 2013 she left reigning Women's Premiership champions Worcester Ladies to join Richmond, the same club as Richardson.
Fly-half Richardson has played for England 36 times and came off the bench in the 2010 Rugby World Cup final defeat by New Zealand.
Richardson, who can also play at centre, made a name for herself on the Women's Sevens circuit and captained England in Houston in February.
England Women's elite playing squad:
Claire Allan (Richmond), Margaret Alphonsi (Saracens), Emily Braund (Lichfield), Natasha Brennan (Wasps), Rachael Burford (Thurrock), Rowena Burnfield (Richmond), Lauren Cattell (Saracens), Abigail Chamberlain (Richmond), Rochelle Clark (Worcester), Emma Croker (Richmond), Fiona Davidson (Darlington Mowden Park Sharks Megan Ellery (Darlington Mowden Park Sharks), Becky Essex (Richmond), Heather Fisher (Worcester), Vicky Fleetwood (Lichfield), Deborah Fleming (Bristol), Mercedes Foy (Thurrock), Hannah Gallagher (Saracens), Megan Goddard (Worcester), Georgina Gulliver (Lichfield), Sophie Hemming (Bristol), Natasha Hunt (Lichfield), Sarah Hunter (Lichfield), Laura Keates (Worcester), Ceri Large (Worcester), Ruth Laybourn (Darlington Mowden Park Sharks), Sophie Lee (Durham University), Siobhan Longdon-Hughes (Bristol), Justine Lucas (Lichfield), La Toya Mason (Wasps), Alexandra Matthews (Richmond), Francesca Matthews (Richmond), Joanna McGilchrist(Wasps), Sarah McKenna (Saracens), Katy McLean (Darlington Mowden Park Sharks), Katherine Merchant (Worcester), Harriet Millar-Mills (Lichfield), Marlie Packer (Wasps), Claire Purdy (Wasps), Amber Reed (Bristol), Leanne Riley (Saracens), Emily Scarratt (Lichfield), Emily Scott (Thurrock), Michaela Staniford (Wasps), Tamara Taylor (Lichfield), Lydia Thompson (Worcester), Sally Tuson (Saracens), Danielle Waterman (Bristol), Kay Wilson (Bristol), Amy Wilson-Hardy (Bristol)