Plymouth Albion boss James Shanahan open to '23rd game'
By Phil Harlow
BBC South West Sport
Last updated on .From the section English Rugby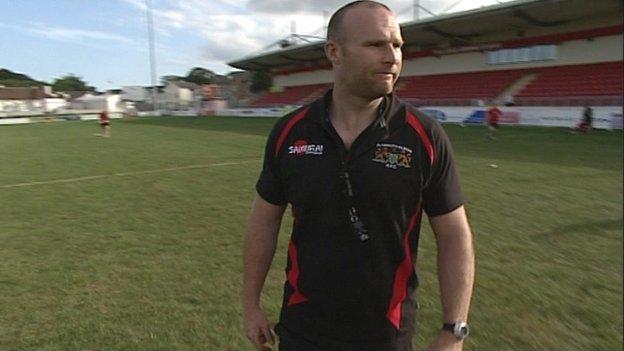 Plymouth Albion coach James Shanahan says he is supportive of the experiment to introduce an extra round of games to the new Championship season.
The move is reminiscent of the '39th game' proposal which caused uproar when the Premier League mooted it in 2008.
"It's something different, let's buy into it and be positive," he said.
"They've come up with an idea and want to see how it goes. They're trying to try to set the Championship season alight."
The idea for an additional game to the regular home and away fixtures was initially proposed by the clubs themselves, under the auspices of the Championship Clubs' Committee, as a way of increasing interest in the competition and helping clubs generate extra revenue.
All the double-headers are taking place in neutral venues - Exeter Chiefs' Sandy Park, Saracens' Allianz Park and Doncaster Knights' Castle Park - to avoid handing home advantage to any of the sides involved, with the Rugby Football Union, which supports the proposals, underwriting the cost of the stadium hire.
Shanahan's team will play Jersey - who finished second from bottom in the Championship table last season - at Sandy Park on Sunday as their additional fixture, as well as home and away matches during the season.
Albion's south-west rivals Cornish Pirates will also be in action at Sandy Park as part of the double-header, taking on Bristol, who finished in fifth place in 2012-13.
"I can understand some of the concerns," added Shanahan.
"Someone's going to have to play the team who finishes top of the table three times and it could be unfair but you've got to crack on with it."
An RFU spokesperson explained that the fixtures were chosen by the clubs, partly on the basis of geographical location - in order to try to create some local derby games - and partly on the basis of the 2012-13 league table.
"At the end of the day we want to win a game of rugby, it doesn't matter who we're playing against or where it is - we want to win," said Shanahan.
"Jersey have made a lot of signings, they're very physical and have lots of good players. It will be a tough game like playing anyone in the Championship.
"I'm OK with playing Jersey - would it be any different if it was Pirates, Bristol, Leeds? I don't know. But we're ready for Jersey, let's see how we go.
"We're not going to be perfect against Jersey but we don't need to be. We need to win the game and then try to improve every week over the course of the 23 games.
"The boys are excited to be playing at a Premiership ground, it's a great pitch and stadium and I know there's a big buzz and it's the same with other games with the double headers at Saracens and Doncaster."
The clubs and the RFU plan to assess the new initiative at the end of the season before deciding whether to continue with a '23rd game' in future seasons.
Shanahan - who describes himself as a "rugby geek" - was appointed at Brickfields in April, making this his first full season at the helm.
"It's a new team with a new players and a new coach, not to mention new styles and philosophies so it's going to take a bit of time to gel," he said.
"We're going to try to play with variety - yes, we'll try to throw the ball around and stretch teams with our backline but we've got a big pack of forwards that can play a tight game as well.
"We want teams guessing and not to just be a one-dimensional team like we perhaps have been in the past.
"We want to be better than we were last year."