Heineken Cup: English & French clubs to set up new competition
Last updated on .From the section Rugby Union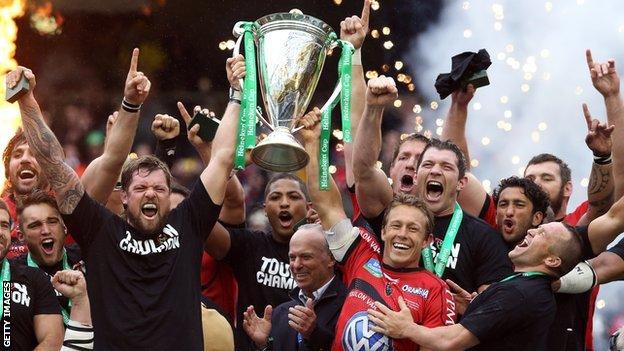 Top-flight English and French clubs say they are to set up a new tournament to replace the Heineken Cup from next season.
The clubs gave notice last year of their intention to pull out of the two existing European competitions at the end of 2013-14.
They are unhappy with the differing ways teams qualify for the Heineken Cup and how proceeds are shared.
The new format would include English and French teams and be open to others.
The Heineken Cup, which began in the 1995-96 season, features teams from England, France, Ireland, Scotland, Wales and Italy.
But English and French clubs argue their counterparts in the other four nations have an unfair advantage in Europe.
With the Pro12 having no relegation, teams can rest players for league matches to keep them fresh for Europe, while the two Scottish and two Italian clubs are guaranteed a Heineken Cup place.
Premiership Rugby, which represents the 12 top-flight English clubs, said in a statement it had proposed the formation of two 20-team competitions to replace the Heineken Cup and second-tier Amlin Challenge Cup.
But it said "discussions have been unsuccessful and the clubs can only conclude that negotiations on any new European agreement have now ended".
It added: "Given the importance and urgency of the current position, and the reconfirmation that the French clubs will not participate in any competition unless it includes the English clubs, the clubs have now asked Premiership Rugby to take immediate action to put in place a competition for 2014-15 to include the French and English clubs but which will also be open to teams from other countries."
European Rugby Cup, which runs both European club competitions, said all parties involved in the consultation process would be represented at a scheduled meeting of its board in Dublin on Wednesday.
It added in a statement: "While there is a shared sense of frustration among ERC's stakeholders at the lack of progress towards a new accord, the meeting will provide an opportunity for the parties to review the consultation process to date."