Redruth's Greg Goodfellow vows to learn lessons after red card
By Andrew Birkett
BBC Sport
Last updated on .From the section English Rugby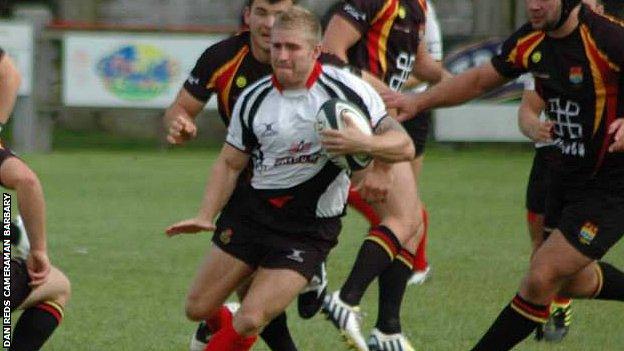 Redruth scrum-half Greg Goodfellow says he will learn from his mistakes after being sent off in the first game of the season for dissent.
The 28-year-old is anticipating a lengthy ban after his red card in the 35-27 defeat by Cambridge.
Goodfellow insists his comments were directed at a team-mate rather than referee Phil Watters, but will not contest the decision at a hearing.
"I do regret even using that language," he told BBC South West Sport.
"I have to take decisions on the chin. A lot of it came from pure frustration at the way I was playing and the team was playing.
"It was an out-of-character thing, I've never had any problems with officials in my career.
"I know they've got a hard enough time without players back-chatting and it's a case now of keeping my mouth shut whether a decision is right or wrong, or whether a player on my team is having a go at me.
"I want to just do my job and keep out of trouble for as long as I can for the rest of my career.
"The last thing you want to do on a rugby field is get on each other's backs. There'll have to be some changes in the team, so in a way I have let my team-mates down and obviously the coaches and supporters.
"But I can only say that it wasn't intentionally said to the referee - it was a misunderstanding. Hopefully the team will manage without me playing, I'm sure they will."
Goodfellow will miss the derby match against Launceston on Saturday and is expecting to miss several more matches after the Rugby Football Union disciplinary hearing.
"I'm not expecting anything good out of the hearing to be honest," said Goodfellow, who has been sent off twice before in his career.
"I suspect that I'll be looking at a pretty lengthy ban. Dylan Hartley was given 11 weeks and I'll be extremely surprised if it's any less than that.
"Whatever comes of it I'll have to swallow.
"Originally I wanted to appeal the decision but speaking to the club, they feel that in the best interests of me and the club I'll be as well to plead guilty and hope for as good a result as possible."
Speaking to BBC Radio Cornwall after the game, Redruth skipper Chris Fuca - talking specifically about problems with his team giving away penalties at the scrum - admitted his players needed to improve their discipline.
"Us gobbing off to the ref doesn't help. When you think a decision's not right, it doesn't pay to mouth off - if you put a ref's back up then things go against you," he said.
"We've got a bit of a problem with backchat, I think."