Simon Gaynor: Worthing forward hopes to boosts club
Last updated on .From the section Rugby Union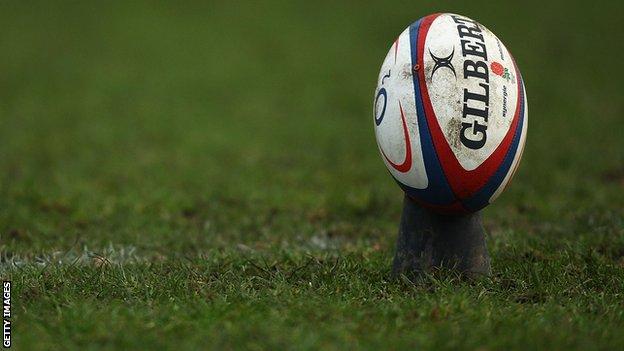 Worthing Raiders forward Simon Gaynor hopes his previous spells in National League One can help his new club.
He told BBC Sussex: "I've got a lot of experience in National One and I'm lucky enough to have won it with both Esher and Ealing Trailfinders.
"The similarity with Worthing is we may be small but we are mobile. It is a recipe for success potentially."
He added: "We weren't the biggest at Esher and Ealing but we used the ball well."
Gaynor helped Ealing to promotion to the Championship last season but he decided to leave the west London club so he could hold a teaching post at Steyning Grammar School.
"Ealing Trailfinders had just gone full-time and fully professional," he said.
"It was a case of a life choice; National One rugby on my doorstep or sacrifice my teaching and go back to full-time rugby.
"Rugby is a young man's game. I think the Championship is suited to your 19 to 25-year-olds who perhaps haven't got family or work commitments.
"It is about finding the balance."
After losing their opening game of the season 38-34 to Yorkshire side Wharfedale, the Raiders welcome Blackheath this weekend.
Gaynor says making the most of their home games at Roundstone Lane will be crucial to their aspirations of survival this season.
"It's huge for us," he said. "With the journey we made for Wharfedale last weekend, we set off at half five on Friday and weren't in beds until twelve thirty or one o'clock in the hotel. We were then not back until one thirty or two the next morning.
"The home games are huge as you are in your own bed on a Friday night and you have your own routine.
"We have access to the support staff and all the processes are in place and we are not sat on a bus somewhere."