Heineken Cup: ERC says tournament can still be saved
Last updated on .From the section Rugby Union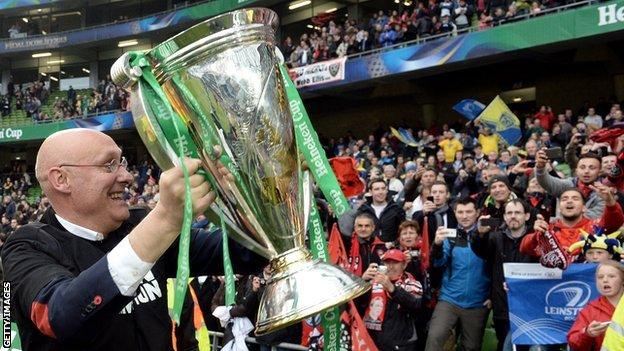 The body that organises the Heineken Cup says the tournament can still be saved - despite English and French clubs insisting they are quitting.
But European Rugby Cup (ERC) said on Wednesday that "all parties reaffirm commitment to ERC negotiations".
The body added it will hold a meeting in order to discuss "points of difference" as soon as possible.
"The share of central revenues, qualification and season dates would all be on the table," said the ERC.
The organisation's directors met in Dublin on Wednesday, with English and French clubs in attendance, although English clubs body Premier Rugby says its stance remains unchanged following its announcement of the new tournament.
The French and English clubs argue their counterparts in the other four competing nations - Wales, Scotland, Ireland and Italy, who form the Pro12 league - have an unfair advantage in Europe.
With the Pro12 having no relegation, teams can rest players for league matches to keep them fresh for Europe, while the two Scottish and two Italian clubs, and at least three of the four Welsh and Irish provinces, are guaranteed a Heineken Cup place.
The French and English clubs are are also unhappy with how money is shared between the competing sides.
An ERC statement after Wednesday's meeting said: "Despite recent reports, all parties involved in the formulation of a new ERC Accord have reaffirmed their commitment to the process.
"The board reiterated that European club competitions must be organised by ERC, and that any purported cross-border club tournaments needed the approval both of the IRB (International Rugby Board), and of the relevant unions who are shareholders of ERC.
"It was agreed that the negotiations towards a definitive solution needed to begin again in earnest."
Meanwhile, Saracens chairman Nigel Wray believes moves towards establishing a new Anglo-French competition next season were "inevitable".
"It has to happen," he told ESPN. "It is a union competition, set up by the unions (national governing bodies), fair enough. But it is the clubs taking part in it and it's hugely important to the clubs. We want it to be a club-controlled competition.
"In addition, under the current structure, the two nations - France and England - who provide the vast majority of the revenue are permanently out-voted by the four other nations. In that system, you have to leave if you want to change something.
"We are setting up our own competition which one hopes the other nations will join. It has got to be a competition that more accurately reflects the revenue generated by the various nations."