Heineken Cup: English clubs tied in until 2015 - Martyn Thomas
Last updated on .From the section Welsh Rugby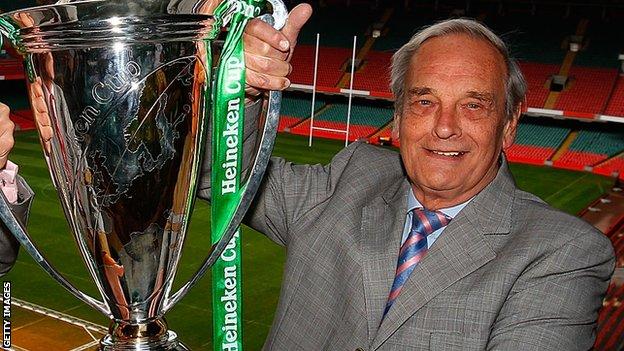 Premiership clubs are contracted to play in the Heineken Cup until the end of the 2014-15 season, according to the former chief of English rugby.
Elite English and French clubs have announced they will play in a new tournament next season.
But former Rugby Football Union chairman Martyn Thomas told Radio Wales that English clubs are tied in to the existing tournament for another year.
"There's a contractual obligation there that the RFU can enforce," he claimed.
"It not only provides that they will play in Europe to the end of the season 2014-2015, it also provides that they will play in no other professional competitions."
Thomas, who left his position of RFU chairman in November 2011, accused the English and French clubs of "grandstanding".
On Tuesday, a statement issued by Premiership Rugby, which represents the 12 top-flight English clubs, said they and the French Super 14 clubs are setting up a European tournament which would "also be open to teams from other countries".
The ERC, the body that currently organises European rugby competitions, responded by claiming that Leicester chairman Peter Wheeler and French league chief Rene Bouscatel, as representatives of their respective leagues, had agreed that "no other structure other than ERC would be appropriate to organise European tournaments".
The current two European competitions, the Heineken Cup and Amlin Challenge Cup, involve teams from England, France, Ireland, Italy, Scotland, Wales, Portugal and Romania.
However, the English and French argue their qualification criteria are much tougher and put them at a disadvantage in the competitions.
They served notice to quit the tournament in 2012, however, Thomas does not believe their proposed alternative can get off the ground.
"It's grandstanding," he said.
"The ERC (European Rugby Cup) agreement was signed, and it was signed subsequently to an agreement that the RFU and PRL [Premier Rugby Ltd] and each individual club entered into and that was in 2007.
"One of the terms of the agreement was that the Premiership clubs would remain playing in Europe until the end of that agreement with the RFU.
"The RFU have got to stand up and be counted, it's not a popularity competition being at the RFU."
RFU chief executive Ian Ritchie has since released a statement stating that his organisation is "supportive of the Premiership clubs seeking greater meritocracy," while stressing that rugby should "continue to thrive and grow" and urging "compromise on both sides".
Thomas also expects the French Rugby Federation and International Rugby Board to block any move to form a new tournament.
"The clubs in England require the consent of their union, the teams in France require the consent of their union," he said.
"Pierre Camou is probably one of the strongest presidents in world rugby - he is a tough guy.
"Also, because it's a cross border they require the consent of the IRB and they have a French chairman in Bernard Lapasset.
"There is no way that those two Frenchmen are going to give consent for this to occur."
But Saracens chief executive Edwards Griffiths says there is no room left of negotiation over the future of European club rugby.
"There has been 15 months of negotiations and obviously the ERC are coming back for more, but from a Premiership and French clubs' point of view, those discussions are finished now," he told BBC London 94.9.
"They have been unsuccessful, so we will play in another tournament and others will be welcome to join us."