Sam Chalmers banned from rugby for two years over steroid use
Last updated on .From the section Scottish Rugby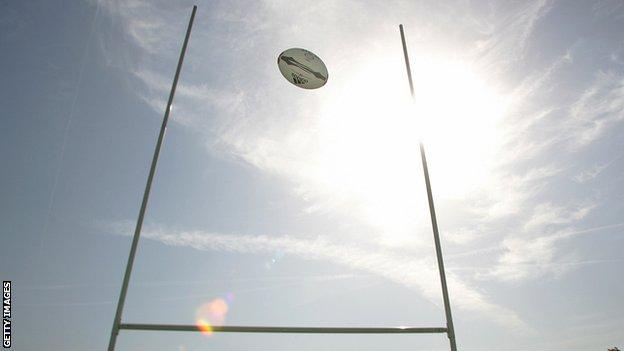 Melrose utility back Sam Chalmers has been banned from rugby for two years after admitting using prohibited substances.
The 19-year-old tested positive for two anabolic steroids at a Scotland Under-20 training session in May.
Chalmers said his actions were "stupid, naive, desperate".
"I am mortified and embarrassed with the whole situation and feel I have not only let myself down but my club and family as well," he added.
Chalmers is the son of former Scotland and British & Irish Lions fly-half Craig.
In a further statement, Sam Chalmers said: "First of all, I would like to apologise to my club, Melrose RFC, my team-mates, the Scottish Rugby Union, my friends and my family.
"I am disappointed in myself and have to take personal responsibility for this incident, which has ultimately led me to being banned from the game I have grown up with and love so much.
"I have been stupid, naive and impressionable and would urge other young players not to give in to the constant pressure to be bigger in the manner that I did over a two-week period in April last season.
"After my experience, I would certainly encourage young players to seek out the correct advice from the right places before taking any kind of supplement or product.
"I hope, over time, I can be forgiven for my mistake and I can come back to compete in the game I love so much."
Craig Chalmers said his son had made "a huge mistake" and "now faces the biggest challenge of his life".
"I believe the lessons Sam has learned from this experience will only make him stronger and, when he does return to rugby, you will see a player who has matured," the Melrose player's father said.
"My message to young players would be not to take any short cuts.
"These products may not only damage your career, but they can also damage your health.
"Get the right advice from the right people before you take any product or supplement."
Graham Ireland, Scottish Rugby's head of regulation, said: "Scottish Rugby takes a very clear stance on anti-doping and we have a zero-tolerance policy on doping offences in Scotland.
"We are committed to keeping the game in Scotland clean through a programme of robust drugs-testing, coupled with education on the dangers of illegal substances.
"Scottish Rugby, working in partnership with anti-doping agencies and other governing bodies, undertakes a programme of drugs-testing after-matches, after training, out of competition and at home.
"Testing can occur at any level of the game, anywhere and at any time.
"Since the 2009-2010 season, there have been around 800 drugs tests in Scottish Rugby, at all levels of the game and, in that period, there have now been two adverse findings - an amateur club player in 2010 who was found to have taken a slimming product that contained an illegal substance and, this latest case, involving a club player who took a product because he naively thought it could help him to put on weight.
"We are continuing to work diligently to ensure the importance of a drugs-free game is understood by all involved in the sport in Scotland."