Jeremy Guscott Q&A: Twelvetrees should get England call
Last updated on .From the section Rugby Union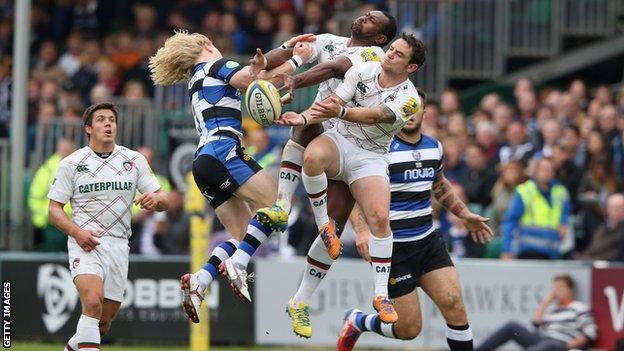 Among the topics Jerry discusses this week are:
- The future of European club rugby
- The prospects of English clubs in this year's Heineken Cup
- The Aviva Premiership season so far
- Who will win the 2014 Six Nations tournament
Jerry answers questions posted on the website at the start of every week - entries are now closed for this Q&A. This week's answers appear below.
Jerry, do you think the Irish and Welsh regions will join up with the proposed Anglo French Euro tournament or will they go it alone? 1stDec2012
Hi, with the French and English clubs having handed in their notice in 2012 that they would leave after this season ends, the Heineken Cup will cease to exist in the format we currently see it. The French and English clubs have decided that they will start another European competition because they are not happy with the current format or, it would appear, the organisation running it.
The Welsh regions have a decision to make just like the rest. If the regions get more money being with the French and English clubs then I would be surprised if they opted out. I think its a shame a compromise couldn't be reached.
If the new competition means clubs will be financially better off, well done all those clubs who can afford to turn down that extra money. If the French don't back out then I see the new competition getting more traction because existing without the French and English would pretty much be a repeat of the Pro12.
I don't know the details of what BT have offered and I don't know how much Sky have paid to extend their existing contract but one would appear to be much more lucrative judging by the current situation we see. Sometimes change isn't a bad thing, I hope all parties see sense because I'm a big fan of the European competition.
Hi Jerry. Given that an English club hasn't won the Heineken Cup in years, and the Irish and Welsh are dominating the trophies at regional and international levels respectively in Europe over the last decade, don't you think it's a bit rich the English are trying to ruin the world's best club tournament by breaking away, for money reasons only? worldlywiseman
Hi, there's no doubt the financials involved are having a huge influence on the questions being asked and decisions being made. That doesn't mean it's wrong. A slight correction for you just mentioning the English, the French clubs are in it too. I'm not sure whose idea it was but the French already have huge financial backing and while money is central to this change it's not the only reason.
Jerry, what do you think of the Aviva Premiership so far? With the likes of Northampton and Bath getting off to a great start it's looking like this could be a really great season. Looneyboyo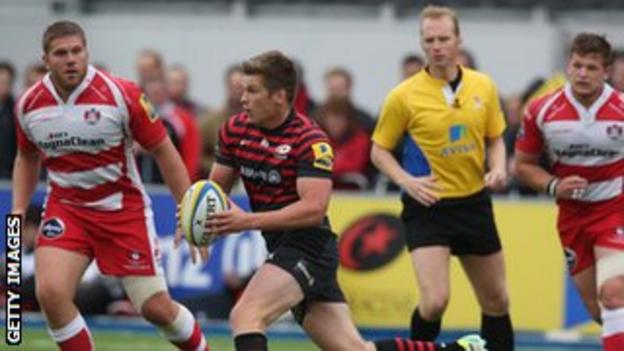 Hi, I agree, Saracens and Northampton look powerful, Bath have got off to a good start and then there are six teams who have won one and lost one plus three who have yet to win.
I don't envisage Gloucester being bottom of the league come the end of the season but the current top four could well be there at the end. The start to most seasons are generally exciting, optimism still exists and there's everything still to play for.
Hi, Jerry, Do you think Ulster's Pro12 bubble has burst? Denis
Hi Denis, I guess after last season's start and finishing position the expectation is to win every game but thankfully sport isn't always so predictable. I can't really see Ulster being in 10th spot come the end of the season. They will be battling again to be champions.
Hey Jerry, now that Brad Barritt has been ruled out until at least Christmas, is this a licence for England to play a more attacking centre alongside Manu Tuilagi in the autumn Tests? Who would you choose out of Billy Twelvetrees, Kyle Eastmond, Jonathan Joseph, Henry Trinder or anyone else? Fraser Posford
Hi Fraser, it's unlucky for Barritt but it forces head coach Stuart Lancaster's hand to select someone else and I think it will be Twelvetrees because his all round game gives England more options. His kicking sets him apart from any of his competition and when exiting your own half it is so important at international level, so I would say he has the 12 slot.
What did you make of the Bath v Leicester game? As a Leicester fan, I have to admit Bath played well to win by seven points but with Leicester getting two yellow cards and with more than half of their starting team injured or unavailable, don't you think it should have been more and the second half should have gone much more like the first? Jamie Russell
Hi Jamie, to play nearly a quarter of the match, 17 minutes, with only 14 players away from home I thought Leicester did well to keep it to seven points. The Tigers had a bad day when it came to giving penalties away - you either concede points or yards neither help you win a games.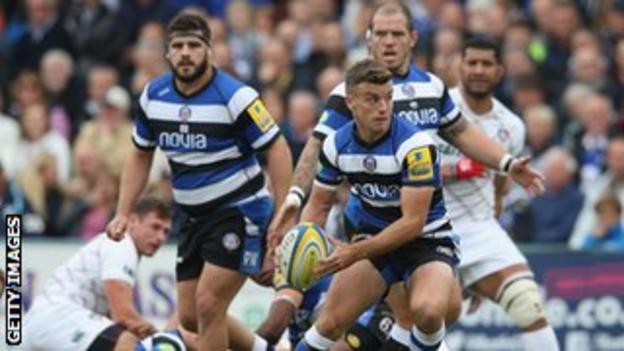 To think Bath would carry on in the second half where they left off does Tigers a disservice, they're champions for a reason, they keep playing until the final whistle blows.
Psychologically it was good for Bath to hold on when it looked like Leicester were going to snatch it coming down the home stretch. Bath would take any kind of win over Tigers: Injuries, yellow cards, shake hands - take the four points and work on how to beat Saracens this Sunday.
Hi Jerry, Do you agree that qualification for European competitions is unfair? Surely the English and French clubs have a point when the bottom team from the Pro12 can qualify for the Heineken Cup when teams above them don't? Cayacer
Hi Cayacer, qualification should be on the basis of meritocracy pretty much all neutrals would agree with that. The options then would be the highest finishing Italian and Scottish teams qualify no matter where they finish in the league or Ireland, Wales, England and France give up slots so both Italy and Scotland have two representatives... Like that's going to happen!
What do you think of merging Wasps, Saracens and London Irish to create a London super franchise? Surely it would be in the best interest of fans as combining these clubs will make London the major force domestically and in Europe? African Pele
Hi African Pele, I don't think it would work, look how the crowds have been affected when Wales and Scotland moved from clubs to regions.
Hi Jeremy, how large do you think the gap between England and Wales is, and who do you think will win the 2014 Six Nations? Snackne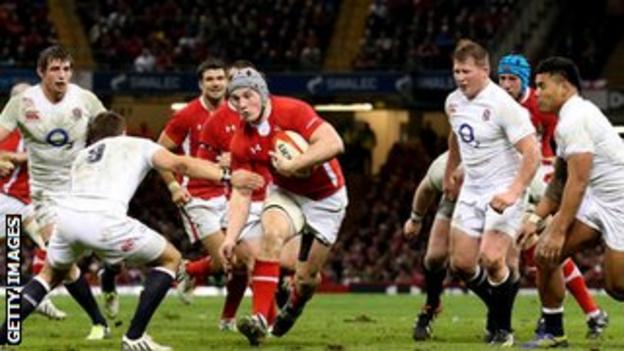 Hi Snackne, you're as good as your last game and currently a fully fit Wales would be my favourites to beat a fully fit England.
I have no idea as yet who will win the 2014 Six Nations. We do know France in recent times have a very good record in Championship years following a Lions tour, two Grand Slams and a Championship following the last three!
Hi Jerry, seeing teams such as Saracens and London Wasps desperate for the bonus point is really generating a lot of tries. Should we see this in the Six Nations? JamesB
Hi JamesB, you make a fair point. The only reason I believe it's not being used is that you could actually have a scenario where one team wins a Grand Slam but doesn't win the Championship. As unlikely as it is, it's possible.