Heineken Cup vital in World Cup build-up - Lawrence Dallaglio
Last updated on .From the section Rugby Union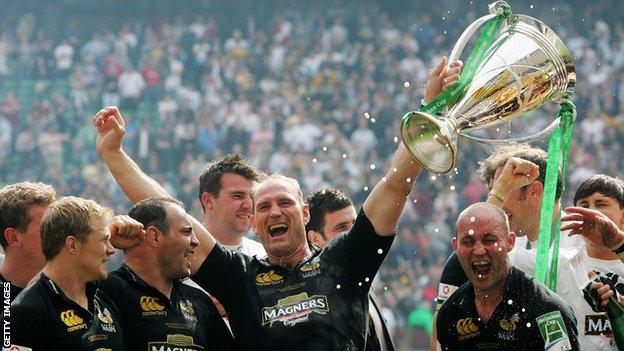 Saving the Heineken Cup is key to northern hemisphere countries' chances of winning the 2015 World Cup, says ex-England captain Lawrence Dallaglio.
Heineken Cup organisers European Rugby Cup (ERC) will hold further talks on 23 October as they seek an agreement.
"There's a responsibility to ensure the best players are playing each other on the biggest stage," Dallaglio said.
"That is especially the case in the build-up to a World Cup, as all but one have been won by the southern hemisphere."
English and French clubs said last week discussions with the ERC had "been unsuccessful" and they could "only conclude that negotiations on any new European agreement have now ended".
They are unhappy with the differing ways teams qualify for the Heineken Cup and how proceeds are shared.
The owners and chairmen of the 12 English Premiership clubs meet on Wednesday as they continue to plan a new European competition, confident their Anglo-French initiative can get off the ground.
But Dallaglio, who won the Heineken Cup with Wasps in 2004 and 2007, is still hoping for a resolution involving all the Six Nations countries.
"We've had a hard job wrestling the World Cup from the southern hemisphere, so we need to have the best competitions in this part of the world for the players to play in," the 41-year-old added.
"That's what the various unions and umbrella organisations have the obligation to do - and privately not publicly.
"I believe the Heineken Cup is a wonderful competition that gives every country in Europe an edge that would be foolish to under-estimate."
Rugby Football Union chief executive Ian Ritchie feels urgent talks are necessary.
He said: "It's important for a game as a whole that we get these negotiations settled.
"Our view as well is that we would seek to achieve a European competition that would involve clubs from Scotland, Wales, France - wherever."
Meanwhile, England Rugby 2015 chief executive Debbie Jevans has confirmed ticket pricing and kick-off times for the World Cup will be announced in November.