Worcester Warriors: Dean Ryan says his team are treated unfairly
Last updated on .From the section Rugby Union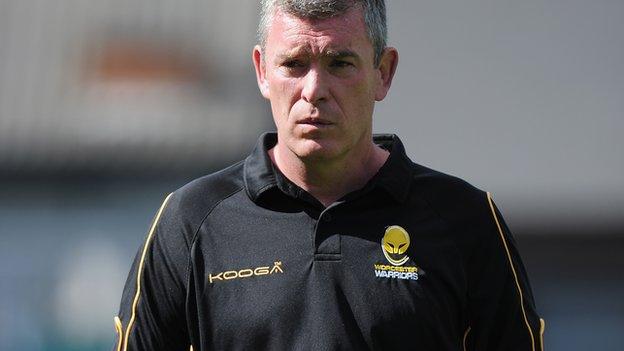 Worcester coach Dean Ryan claims his team are paying the price for past offences after being clobbered for penalties in their first two matches.
And both assessors reported back that Worcester had been harshly treated.
"To have that disparity from someone who isn't involved emotionally means we are carrying baggage," said Ryan.
"It's not me having a go. The beauty of an independent audit is that you get somebody else saying it."
Worcester's poor track record for conceding penalties extends further than just this season, with Ryan's predecessor Richard Hill even inviting in a top referee last term to help point out to his erring players where they were going wrong.
But, frustrated by successive defeats to launch his career at Sixways, Ryan is insistent that Worcester's past reputation is now going before them.
"I'm not carrying the baggage of what Warriors were in the past," he told BBC Hereford & Worcester. "I'm not going to sit here and quietly let the big guns come to town and get this and get that.
"The fact that we did not go on and win quite comfortably against London Irish is a frustration. And there is frustration that we can't maintain pressure on sides at key moments.
"But what frustrates us most is the penalties. There is an independent audit system to look at decisions.
"We felt we were harshly done by in a half-hour window at Leicester. That audit proved that.
"There were seven penalties that didn't warrant penalising, against two from Leicester.
"Then at the weekend, we had a count of nine-two against us, and two of those omissions would have been yellow cards.
"The last penalty incident which cost us victory isn't defendable in law but is defendable in seven other instances of the same offence not being penalised.
"If we give away daft penalties, that serves us right. But the laws of the game say that it's an even playing field.
"We also deserve to start with a clean sheet in every single game. And, in these two games, we haven't had that."
A Rugby Football Union spokesperson said: "The RFU has every confidence in the integrity and ability of its referees. Every game is officiated on its merits."