Gavin Henson will appreciate ticket refund ploy - Saracens boss
Last updated on .From the section Rugby Union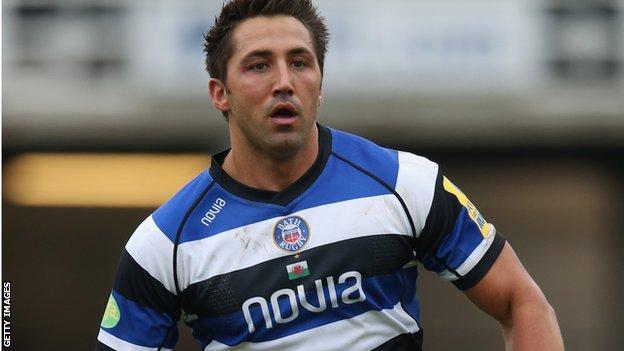 Gavin Henson will appreciate Saracens' ticket offer ahead of the Premiership match on Sunday, says chief executive Edward Griffiths.
The London side top the Premiership and host third-placed Bath at Allianz Park.
"I think Gavin is a big boy, he himself has been involved in all sorts of marketing initiatives in the past," said Griffiths.
"In fact, you could argue that he has marketed his achievements in the game over the past eight or nine years remarkably successfully.
"I think if there is any professional rugby player who understands the reality of the modern age, it is probably Gavin Henson.
"He scores tries, takes drop goals, but I don't know whether this initiative will inspire him to try a drop goal from 40 metres.
"We all know he is very capable and maybe he will want to give hundreds of Bath supporters a free day out.
"If Bath score a try under our posts, with a simple conversion, whether they will let Gavin take a conversion - I don't know.
"All we can say is that Allianz Park on Sunday, there will be a moment of drama and drama and Gavin Henson have gone pretty much side-by-side for the last decade or so."
Fans will need a Bath postcode as their home address to qualify for a refund.
The Welshman has yet to score in Bath's opening two league games, coming on as a first-half replacement in their season-opening 21-0 victory over Newcastle and starting in Saturday's 27-20 win against Leicester.
Saracens made a similar offer to Gloucester fans before last weekend's contest at Allianz Park.
Supporters with a Gloucestershire postcode who purchased tickets in advance could choose a result from which they might earn a refund.
Those who opted for a Saracens win received their money back after the hosts' 44-12 success.
Griffiths says his club is trying to tackle the problem of a lack of away support in rugby.
"I think most Premiership clubs, and clubs in Wales, would agree that away support is something would need to develop within the game," said Griffiths.
"It is a light-hearted way of generating interest and encouraging Bath supporters to come to north London and enjoy what we believe is a fantastic match day experience."