Jeremy Guscott's Premiership focus - Gloucester v Northampton

By Jeremy Guscott
Rugby union analyst, BBC Sport
Last updated on .From the section Rugby Union43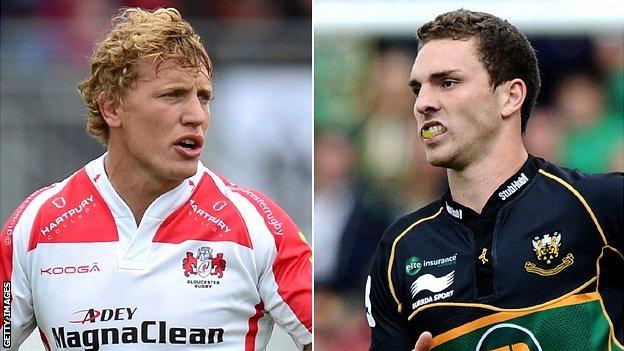 It's bottom v second at Kingsholm on Saturday, and not many people would have predicted that at the start of the season.
OK, we're only two games into the season, but Gloucester better start winning soon if their hopes of pushing for the play-offs are not to go up in smoke.
Kingsholm will always provide a lively welcome - something I know all too well as a former Bath player - but last season's beaten finalists Northampton will arrive in great from and with the likes of George North added to their resources. This could be a cracker.
Can the Shed inspire struggling Gloucester?
Gloucester had better get their act together and soon, otherwise it's going to be a dreadful start to the season.
If they lose at home to Northampton - and lets be fair, the way Saints have started no neutral would be surprised if that happened - they will have been beaten in their opening three games of the season.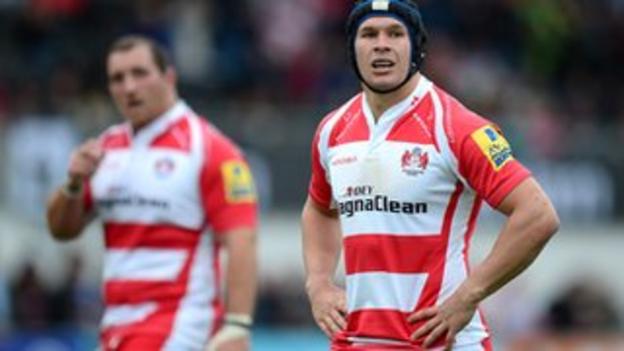 Gloucester will struggle to contain the Saints pack on Saturday because they're not as strong in the tight five and this could be their Achilles heel throughout the season.
A big plus for Gloucester is Kingsholm and in particular the Shed - the emotion, intensity (and odd profanity) emanating from that stand hasn't changed over the years.
Gloucester was a local derby for me and you can imagine how polite they were to those of us from down the road in Bath.
However, the Shed acted as a great inspiration to us. The aim by the end of the game was to have them jeering us, telling us politely to get back down the M5, and if we heard that kind of banter we knew we were doing well against the Cherry and Whites.
It didn't always go to plan, on occasions back then Gloucester would get on a roll and I'm sure you could hear the Shed roar all the way back in Bath.
That passionate, partisan support has to be a great inspiration at times to the hosts - it can't fail but lift you up and take visiting teams down.
Just how strong are Northampton this season?
Saints have enjoyed a great start to the season, winning their first two matches in contrasting styles.
They opened up in style with a big home win over Exeter in the dry and, importantly, followed that up with a victory in the wet against Quins away from home.
I believe Saints have what it takes to be champions this season, especially after their recruitment of George North, Alex Corbisiero (who is rested as part of the England Elite Playing Squad agreement, which limits the number of games internationals can play in) and Kahn Fotuali'i - these are world class signings in important positions.
Wales and Lions powerhouse North is one of the best wingers in the world. He is only 21 but plays a big man's game - he's 6ft 4in and 17st 2lb but has speed as well, and that makes for a lethal combination.
Fotuali'i, 31, has been talked about by some as the best scrum-half in the world, which is big praise indeed, but if the Samoa international plays anything like he did last season for Ospreys then Saints have signed a gem.
He really does have all the skills a nine requires; he scores tries, makes breaks, beats defenders and kicks well.
Very importantly, he should be around for Saints while the other internationals take off for the Six Nations - that two months or so could be really important next spring.
Saints have confidence this year. Last season they couldn't regularly beat the top teams in the Premiership, but their recent win over Quins and the victory away to Sarries in the play-off semi-final at the end of last season has given them real belief.
And what about Gloucester?
Gloucester have some soul searching to do - a big club with big expectations can't be at the bottom of the table.
I've said this before but when you look at their squad they need fast ground to play their best.
Slow muddy pitches aren't going to help either their slick back line or their underpowered front five, which is missing big Jim Hamilton this year after the Scotland lock moved to Montpellier in France.
Matt Kvesic has jumped down the road from Worcester as he believes a change in playing style will help his push for Chris Robshaw's open-side slot with England.
The 21-year-old had the England seven shirt on the tour of Argentina this summer but if he's going to earn it full-time he's going to have to do it the hard way, because there's some stiff competition about.
If he becomes a fetching number seven, good over the ball in the ruck to secure turnovers, rather than a carrying seven he could stand out because that is not a strong area for Robshaw, although the Quins flanker does everything else well.
Last season Leicester Australia flanker Julian Salvi was the turnover king with 28. Kvesic didn't manage half of what Salvi did and also lost a lot of ball, which will be something the English coaches will be watching to see improvement in.
The turnover stats are normally dominated by open-side flankers but Gloucester inside-centre Billy Twelvetrees actually came second to Salvi last year with 18.
With Brad Barritt injured Twelvetrees has a real opportunity to stake his claim for the England 12 shirt and he needs to show leadership for the Gloucester team as well as good play.
Twelvetrees could be the missing link for England, at 6ft 3in and a touch under 16 stone he has the size to carry over the gainline as well as defend it, but importantly he also has the kicking ability and the distribution too - that's a total package in terms of physicality and skills.
Now we have to see if he has the mental strength to lead his back line and play consistently well. He has to show maturity by bossing situations, ensure there are no silly missed tackles or lost balls and lead by example.
If he and fly-half Freddie Burns string some good performances together they will be very close to starting for England.
What was going through Nick Wood's mind?
Gloucester lost 44-12 away to Saracens last week but their cause wasn't helped by prop Nick Wood getting sent off within a minute.
It wasn't the best advert for rugby and thankfully this sort of act doesn't happen often, because it's in no-one's interest that we see these sorts of actions.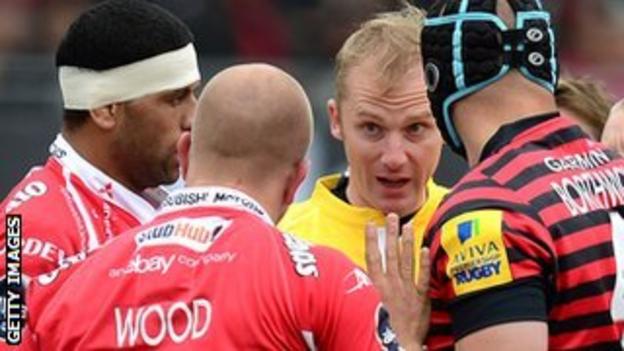 Wood arrived at the breakdown and he could see Sarries flanker Jacques Burger had gone off his feet and was impeding the ball coming out for Gloucester.
Wood raked Burger's back with one leg movement and then raised his foot again and brought it down on Burger's head.
The referee, Wayne Barnes, was very good and had the red card out pretty much at the same time as he blew the whistle.
It was the beginning of the game, Wood was still pumped up and seeing Burger over the ball slowing it down brought down the red mist.
However, as physical as the game is you have to maintain control and self-discipline - for a split second Wood lost it and now he's been banned for eight weeks while Burger, fortunately, escaped serious injury.
Can both improve on last season's finishes?
All teams want to improve and even though it's early days Saints, who finished fourth in the regular season before losing the Grand Final to Leicester, look very much on track.
They have power all through the team, which is difficult to outmanoeuvre in either dry or wet conditions, and with the likes of North, Ben Foden, Luther Burrell and the Pisi brothers they have the finishers to score tries out wide as well - they look a very complete team.
Gloucester finished fifth last season. Unfortunately they haven't been at their best so far but what an opportunity to put their marker down for this campaign by beating Saints at home.
Who's going to win then?
Last season, unusually, both teams won away from home against each, with Saints winning 24-19 at Kingsholm on the opening weekend of the season then Gloucester taking the return fixture 27-11 in February.
You have to fancy Saints for this victory because their pack is up for a dogfight if necessary and they've already scored six tries to Gloucester's one, so there's no doubting their weaponry.
Gloucester have averaged the most carries and metres so far this season but haven't finished that hard work off.
Saints have been impeccable at the set piece, they are the only team not to lose a scrum or line-out of their own so far this season, while Gloucester have struggled in the tight, particularly in the scrum, and the absence of the suspended Wood will certainly not help their cause.
It all points to an away win and that's what I'm going to go with.