Rugby Champions Cup: 'Massive chance' Pro12 clubs will join
Last updated on .From the section Rugby Union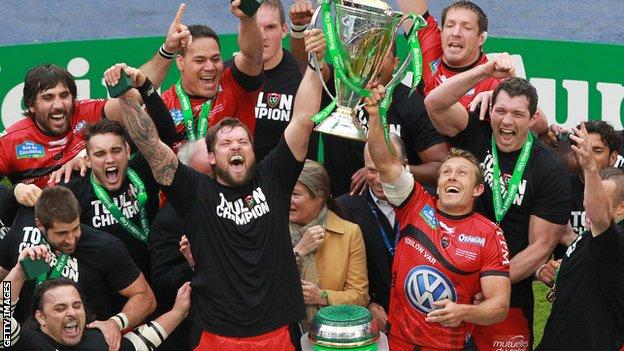 Northampton chief executive Allan Robson is confident Pro12 teams will join a breakaway European competition.
The Welsh, Scottish and Irish Rugby Unions have said they would want "full approval" of the International Rugby Board (IRB) for their clubs to join.
"There's a massive chance [they will join]. Because that's what we want as well," Robson told BBC Northampton.
"I would like to think we'll have a European competition incorporating the sides that have been in the Heineken and Amlin cups.
"But we do need them to agree. And if their unions are making the decision instead of the clubs and the regions, and I'm not saying they are, we need them to agree."
The Aviva Premiership and French Top 14 clubs believe the current Heineken Cup structure favours teams from the Pro12, which is made up of sides from Wales, Scotland, Ireland and Italy, who will be allowed to join the potential new tournament.
Only the top six in England and France are guaranteed a place in the Heineken Cup, whereas at least 10 Celtic League outfits - including both Scottish, both Italian and a minimum of three sides each from Wales and Ireland - have certain entry into the competition.
With the Pro12 having no relegation, it is argued teams can rest players for league matches to keep them fresh for Europe, while Premiership and Top 14 teams have to fight hard just to qualify.
The English and French clubs are also unhappy with the way revenues are split between the three leagues and want to keep a greater share.
Bruce Craig, the deputy chairman of English clubs organisation Premiership Rugby, warned on Wednesday that Pro12 clubs face "financial oblivion" if administrators try to thwart proposals for the Rugby Champions Cup.
And Robson added: "I believe we have made a compelling argument to the teams and their regions to take part in the competition we're structuring now.
"If I'm right and it is compelling, then they will come in. But it has to be fair in terms of the competition qualification and financial distribution, and it has to have a sensible management structure."