Jeremy Guscott Q&A: Nonu and Smith's stats are amazing
Last updated on .From the section Rugby Union267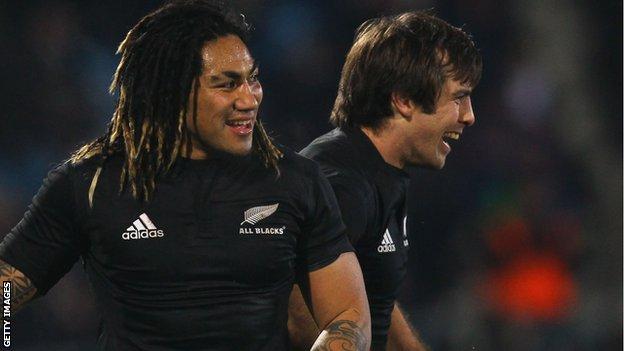 Among the topics Jerry discusses this week are:
- What he makes of New Zealand centres Ma'a Nonu and Conrad Smith
- What is going to happen with the Heineken Cup
- Whether Premiership leaders Saracens are in a false position
- If George North will become a prolific try-scorer in the Premiership
Ma'a Nonu and Conrad Smith have now played 50 matches together in the centres for New Zealand - equalling Brian O'Driscoll and Gordon D'Arcy's all-time record for a Test centre partnership. Do you think they are one of the greatest centre partnerships ever? What other partnerships do you think are up there? G
Hi G, without doubt Nonu and Smith are a great partnership, they complement each other well and have developed and improved as individuals, as well as a partnership.
Nonu has a broader skill set now than when he started - I thought he was a bit of a blunt instrument when he first arrived on the scene, very much a crash, bang, wallop merchant, but his offloading, kicking and appreciation of space for others is right up there with the best now.
His dummy pass then pass to put Ben Smith through a hole in midfield to score his first try against Argentina on Saturday was a fine example of what he's capable of producing.
Conrad Smith is one of those unsung heroes that every team has, he rarely make mistakes and does all the basics to a very high standard. In the world of gigantic rugby players he proves there is still room for a smaller (he weighs less than 15 stone, small by modern standards), smart rugby player. He's a class act.
Their stats are amazing. Nonu's win ratio in all matches is 87% with 25 tries and Smith's is 90% with 24 tries, just incredible.
I thought Tim Horan and Jason Little were a brilliant centre partnership for Australia, while Wales' Jamie Roberts and Jonathan Davies could put themselves right up there if they both stay fit enough. Fifty games is lot to play alongside each other. Very few make it past 30.
Does Jerry think that (1) the Rugby Champions Cup is the certainty that the English and French unions think it is; and (2) if it does come to pass, will it spell the end of top-class regional rugby in Wales, Ireland and Scotland and ultimately bring about the demise of the Six Nations? Plant_Smith
Hi Plant_Smith, I do think the Rugby Champions Cup will start next season, with or without the Italians, Welsh, Irish and Scottish.
The change is needed because the governing unions don't move with the times - they're all reasonably slow at making decisions, like all big organisations.
Even now we read that European Rugby Cup says the door is still open for clubs to talk. They've brought in a mediator from Canada to hold a session on 26 October but why wait that long? That's how the unions roll - slowly. They've had the best part of a year or more to resolve it.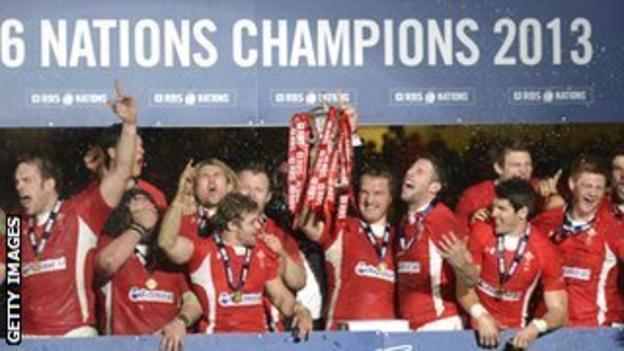 The conflict is over finance and control. The Rugby Football Union (RFU) will let the English clubs go ahead because they don't control the players and the new club/RFU agreement will be negotiated soon.
The French clubs will have a harder battle because of the legal situation in France but I would back the minds and money of businessmen to succeed over politicians any day of the week.
That leaves the Celtic nations and the Italians. I think that's simple to sort - just give their share of the money to the unions, who can continue to support their teams.
If the Celts and Italians don't join the new competition it's because their respective unions don't want them to. If they could choose themselves they would join with the French and English immediately.
I don't believe the Six Nations will ever be threatened because globally, in terms of commercial value within rugby, it's only second to the World Cup, generating gross revenue of between £250m and £300m. That alone should keep it safe.
Don't ask me when, but I wouldn't be surprised if it was moved to a different time in the calendar year at some point in the future.
Do you think Premiership leaders Saracens are in a false position? They have yet to play Leicester and Saints, both of whom are snapping at their heels, and in Tigers' case, playing with a number of first-choice players on the long-term injured list. Steve Dane
Hi Steve, Sarries deserve to be top of the league and Tigers and Saints will have their say when they play each other.
It's unlikely Sarries will go through the season unbeaten but they have a formidable squad of players and their power-based style, with the added ability to score tries they are now demonstrating, is an enviable combination.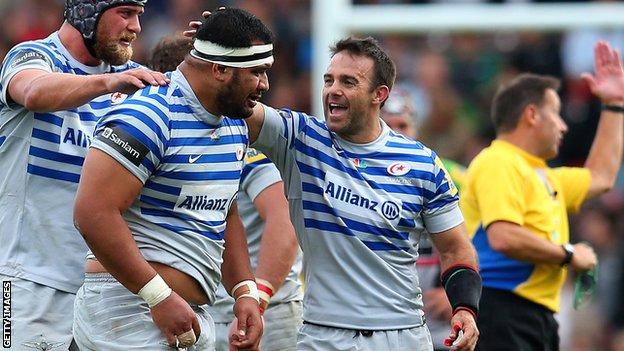 What do you think of Bath fly-half George Ford and Gloucester centre Billy Twelvetrees as a 10-12 combination for England? TW3
Hi TW3, internationally I would be concerned about George Ford's defence. The only way to remove that concern would be to play him and see how he goes, but does he deserve to be ahead of Owen Farrell, Freddie Burns and Toby Flood?
He's only been a regular in a first team for three weeks, let's see how goes this season and if he continues to impress - as he very much is at the moment - then he'll be fighting for a tour place to go to New Zealand next June. I have to say that I do think a Ford-Twelvetrees combination at 10-12 would work well.
Glasgow played the most entertaining rugby in the Pro12 league last season, are unbeaten so far this season and no-one fancies their chances at Scotstoun! How much of this success is down to head coach Gregor Townsend? Also, do you think they are restoring some much-needed respect in Scottish rugby or do they need to win something first? Live in hope
Hi, the coach has to be given credit if a team is winning, as much as they get some stick if their team are losing - it's just a question of how much of either do they deserve to get?
It's the question that's always asked: how much is a team's success down to the coach? Personally I believe it has a lot to do with the players the coach has at his disposal and what changes they make in that department, as well as resources.
Undoubtedly, given the way Glasgow like to play the game, you have to say that would be the way Gregor would like to have played, so his impact is clear to see (although the tries this season aren't flowing as much as he would like I'm sure).
Glasgow's success should have an impact on how Scottish rugby is perceived and their success - without yet winning trophies - is a move in the right direction for the Scottish game.
How do Edinburgh solve their problems before it's too late for another season? Zippy
Hi, Edinburgh may be bottom of the Pro12 but Alan Solomons has only been in charge for four games.
Things can be hard under a new coach because they will have different ideas about the game compared to the outgoing one, generally that means a change in playing personnel and those players will take a good while to bed in together.
I believe there is enough playing talent in the squad to do better than they are at the moment but adapting to change normally takes a while.
With George North scoring his first try for Northampton at the weekend, can you see him settling in and becoming a prolific player in the Premiership or will he struggle as the season goes on because of the high intensity of the games in comparison to the Pro 12?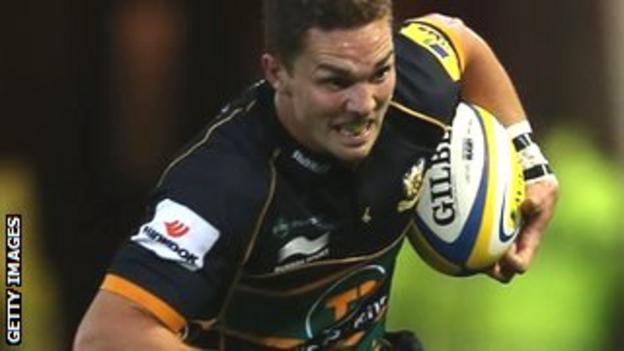 Also, will playing for Saints have a positive or negative effect on North for the upcoming Six Nations? Alan1104
Hi Alan1104, if only I had a crystal ball or the power to see into the future! What I think about George North is that currently he has a determination to succeed and be the very best he can be.
So long as that attitude doesn't change I believe he will continue to be a real star globally, wherever he might be playing his domestic rugby.
For me it's all about his mental ability to deal with new challenges thrown his way, the only thing that I could see that might change him would be what happens away from rugby.
Could the player drain to England and France be a positive for the Welsh national team as it forces the regions to bring on young Welsh talent to plug the gap? Chunky
Hi Chunky, good question. There is no doubt Wales will have a problem keeping even their youngest stars in Wales because financial security has to be part of the equation for any professional rugby player. And if it can be obtained away from Wales then, until that can be reversed, players will leave for the major parts of their careers.
How that affects the national team will be about the national head coach and what he puts in place to make his team successful. So long as every player that leaves signs a contract allowing them to attend Welsh national training camps, tours and matches then I believe it's workable.
So long as the national team does well, those players will be heroes to kids no matter where in the world they play.
Bar the loss to England, the All Blacks haven't lost since 2011. How can a team beat them and how are they so good? JamesB
Hi JamesB, I believe the big advantage the Blacks have over most teams is the coaching they received as youngsters and that all provincial teams in New Zealand play in a very similar style, so not a lot of change is required when they come to play for their country.
England beat them playing an almost error-free game. Their execution in all facets of the game was better than New Zealand's on the day and those games are rare for the All Blacks because they are normally the team that makes the fewest errors.
I believe that, in general, a New Zealand player has a higher skill set and greater technical ability than most players from anywhere else in the world.
The culture and tradition within the All Black family demands very high standards of individuals representing that All Black team, and they've kept all those values in the professional era.
Collectively they are so much better than any other team. You only have to look at their record over the last hundred years, they are among the best-performing sporting teams of all time.
Quite simply, to beat them regularly you have to have better players who can dominate their opposite number, have a stronger will than their All Black opponent, and be more technically gifted and possess more skill than the man in the black shirt - that's not happening any time soon as far I can see.
Teams will continue to beat them in one-off games, like we saw last season against England, because teams are more motivated to beat New Zealand than any other team in the world.