Plymouth Albion 20-22 London Scottish
Last updated on .From the section English Rugby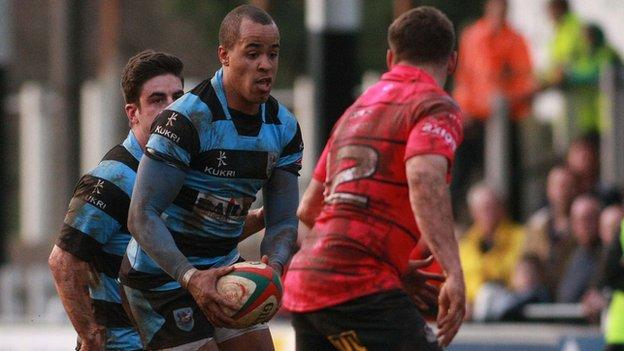 Fourteen-man Plymouth Albion slipped to their second successive defeat at home to London Scottish.
Albion looked to be heading for victory when Brett Beukeboom scored Albion's second try early in the second half but he was sent off minutes later for an alleged tip tackle.
Albion almost clung on but lost to Jamie Stephenson's last-gasp score.
Earlier Eoghan Grace crossed for the opening try for Albion with Dan Mugford kicking 10 points.
Plymouth Albion: Chris Elder; Tom Bowen, Ben Woods, Toby Howley-Berridge, Jamie Davies; Dan Mugford, Ruairi Cushion; Ben Rogers, Davy McGregor, Dave Morton, Brett Beukeboom, Rhys Oakley (capt), R Langley, Eoan Grace, Herbie Stupple.
Replacements: Gareth Evans, Tom Harrison, Dan Williams, Sean-Michael Stephen, James Shanahan, Paul Rowley, Heath Stevens.
London Scottish: James Love; Mike Doneghan, Oli Grove, Andy Reay, Miles Mantella; Lee Millar, Jordi Pasqualin; Mark Irish, Ted Stagg, Lewis Thiede, Tyler Hotson, David Lyons, Chevvy Pennycook, Neil Best, Mark Bright (capt).
Replacements: Lewis Calder, Nick Mayhew, Eric Fry, Alex Karonias, Jamie Stevenson, Dan Newton, PJ Gidlow.