Edinburgh to sign Bay of Plenty centre Sam Beard
Last updated on .From the section Rugby Union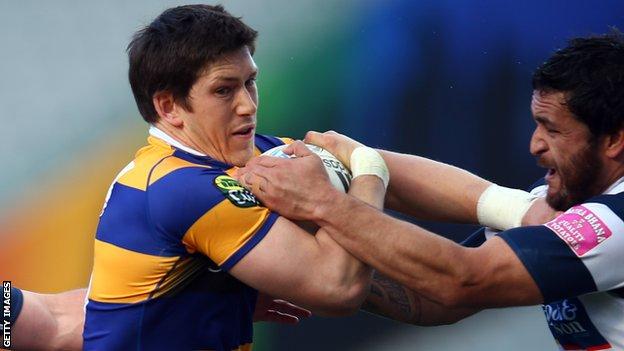 Centre Sam Beard has agreed to join Edinburgh for rest of the season after leaving New Zealand side Bay of Plenty.
Solomons said: "This opportunity is really an extended trial for him.
"He's played in the rugby hotbed of Canterbury and has been on the cusp of Super Rugby in arguably the best breeding ground in the world."
Beard, whose signing is subject to a medical, was part of the championship-winning team at Christchurch-based club Burnside, before being called up to the provincial Canterbury B team.
After being named player of the year, he was brought into the Crusader Knights, the development squad of the Super Rugby giants.
Beard took the next step on the provincial ladder with a season at Bay of Plenty before being approached by Edinburgh.
Solomons said Beard had the opportunity to win a longer contract "while adding to an area in which we currently lack a little depth".
"Beard has played most of his rugby in Canterbury and has proved himself to be a solid young 12 in the ITM Cup [New Zealand's National Provincial Championship]," said the South African.
Beard, who is expected to arrive at Murrayfield this month, said he was relishing the chance to play for the Pro12 side.
"This is a very exciting opportunity and I'm looking forward to immersing myself in the club and the rugby culture," he said.
"I consider myself a ball-running midfielder who plays an attacking style of footy, but I'll look to do my best in offering whatever I can to benefit the side.
"Getting the chance to run out on Murrayfield Stadium will definitely be a career highlight for me."
Solomons said when he took charge that he would have to rebuild the Edinburgh squad and his side sit bottom of the Pro12 after
Since he took charge, Edinburgh have recruited three players from Australia - both previously with Waratahs, twin locks formerly of GPS Old Boys, and front-row forward from Western Force.
was secured after the New Zealander's exit from Hawke's Bay.
Solomons returned to his homeland to sign two members of the Southern Kings back-row in the shape of New Zealander and
Meanwhile, South African joined Edinburgh after leaving French outfit Biarritz and previously of San Insidiro in his native Argentina, won a season-long contract after a successful trial.
However, it is believed that Solomons has only been involved directly in the arrivals of Beard, Dominguez, Du Preez and Leonardi.