Cornish Pirates to abandon Friday night kick-offs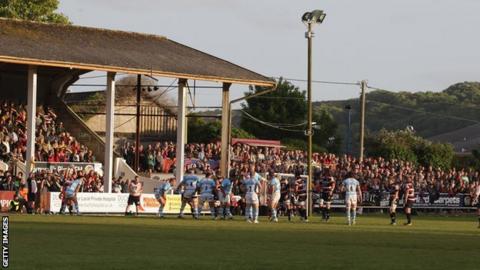 Cornish Pirates are to end their experiment of playing home games on Friday evenings.
The Pirates attracted 1,374 fans to Friday's bonus-point win over Moseley but the club said that season ticket sales are down 21% on last season.
Friday night kick-offs had been part of a series of measures introduced to try to increase attendances at the Mennaye Field in Penzance.
The club plan to return to Sunday afternoon fixtures wherever possible.
"The customer comes first and they vote with their feet when they don't like the offering," read a statement from club owner Dicky Evans.
"The first major indicator that we had it wrong with Friday night rugby was a reduction in season tickets sales year-on-year of 21% - a lot of much-needed funding.
"Subsequently poor crowds, and nowhere near budgeted numbers for the first two games, confirmed that to get to the western tip of England on a Friday night (and get home again) wasn't just a problem for visiting teams but also our much-valued supporters."
The attendance for the club's first home game of the season against Leeds Carnegie on Friday 20 September was 1,844.
"Consequently the board decided over the weekend that this drain on financial resources couldn't continue so we are looking to return to Sunday afternoon fixtures for the rest of the season if we can organise that," added the statement.
Evans also said that former chief executive Rod Coward would return to the club to help ease the burden on Rebecca Daniell, who had taken on the role in an acting capacity in addition to her normal job as financial controller in the wake of Josh Lewsey's departure.
The England World Cup-winning back had been the Pirates' acting chief executive but has since been appointed as the Welsh Rugby Union's head of rugby.
"Without a CEO in place we have put far too much pressure on Rebecca while we try to source someone for the role, so Rod has very kindly agreed to return to help Rebecca get the show on the road again," he added.
"Rod will be responsible for all the management decisions required going forward for the next three months in conjunction with Rebecca and the board.
"I will be in Cornwall at the end of the week to hopefully meet with debenture holders, key players and the club management committee about the future of the club.
"None of us are getting younger and some plans need putting in place to sustain the future of the Pirates at this level."