Jeremy Guscott Q&A: Kieran Read is world's best number eight

By Jeremy Guscott
Rugby Union analyst, BBC Sport
Last updated on .From the section Rugby Union234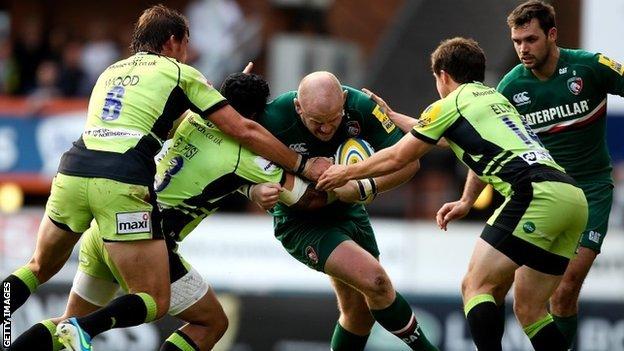 Among the topics making the headlines this week are:
- Sale's promising start to the campaign
- New Zealand's pulsating victory over South Africa in the Rugby Championship
- How the teams are shaping up with less than a month to go until the autumn internationals begin
It was a great match between Leicester and Northampton (above, picture) on Sunday. Leicester produced an incredible fightback in the last 10 minutes while dealing with significant injury issues. Northampton, who to be fair were the better team for probably 60 minutes of the match, didn't manage to take the win. Who do you think can take more from the game though? 1979
Hi 1979, winning is always best, whether it's against a weakened team or a full strength one. I think Saints will feel worst; the game was theirs for the taking at 19-9 up with 14 minutes to go. Tigers will think they got out of jail and will be feeling the better of the two sides.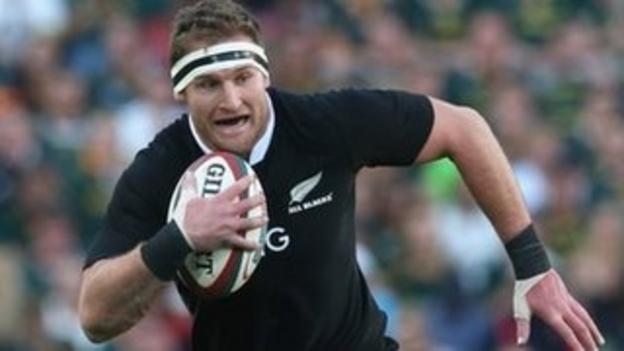 After Kieran Read's outstanding man of the match performance in Saturday's win against South Africa, where do you think he stands in terms of the best number eights in the world? ruaridhcameron
Hi ruaridhcameron, Kieran Read has been outstanding for a good few seasons now. In my book he's the best all-round eight currently playing. It does help playing in the best team in the world, but with his talent he would still be great in any team - he's that good.
Hi Jerry, with Harlequins and Gloucester both having a tough time at this early stage in the season and given the international season coming up, can you see this finally being the year Exeter break into that top four? Tony-The-Tiger
Hi Tony-The-Tiger, Saracens are cruising along at the top of the Premiership and Northampton also look good for a play-off place, but I feel the next two spots are seriously up for grabs with a number of teams in with a shout.
From second to 11th the difference is eight points - that shows just how competitive the league has been at this early stage.
Leicester have some injured players to come back and that will strengthen them, but Harlequins just don't look as powerful as they were two seasons ago and Bath have also shown their vulnerability.
Sale and London Irish are the surprise teams for me but it's good for the league and rugby in general that they're proving competitive.
It was a big season for Exeter last time round, dealing with competition on two big fronts in the Premiership and Heineken Cup, and they did incredibly well in my opinion. I still think it's a big ask for Chiefs to make the top four because of their strength in depth issues but I wouldn't be surprised if they did.
Hi Jerry, after Australia's much improved performance against Argentina, scoring seven tries in their 54-17 away win, do you think Stuart Lancaster and England will be more concerned than they may have otherwise been about Australia's visit to Twickenham in less than four weeks' time? Ed_JKLM
Hi Ed, after last season's beating I don't think England can afford to take anything for granted against Australia - or any team for that matter - and they won't. The Aussies have a talented backline; their issue is getting them enough possession, and the backs not trying to do too much in their own half.
Hi Jerry, Sale were expected to be one of the strugglers this season, after several seasons which have seen pretty much every type of off-the -field "meanderings". What do you think has been the key to their improved start? And do you think they'll be able to keep it up for the rest of the season? Sam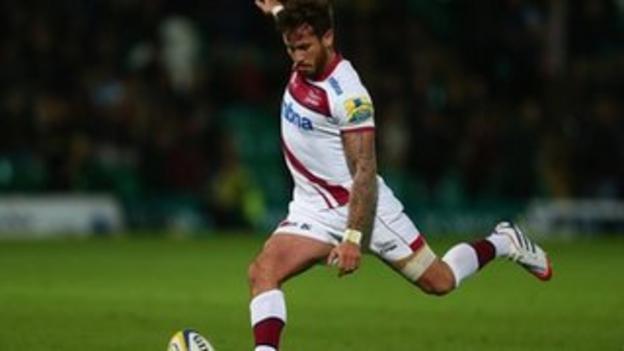 Hi Sam, I thought Sale would struggle I have to admit. Instead they have done well although, given the standards they set themselves, they may have expected to be in fifth position, if not better, at this stage.
Sale's early success may be down to foundations laid last season, with the hard work done on the training field finally all coming to fruition. Sharks had a reasonable back-end to last season and this is a continuation of that form - winning breeds confidence. There's no doubt if fly-half Danny Cipriani continues to play well, Sharks are a danger to any team.
Hi Jeremy, if you were a betting man, who would your money be on for Heineken Cup glory? And who do you see as potential dark horses, capable of pulling off a few surprises and reaching the latter stages of the tournament? HC
Hi, the usual suspects will be there all the way in Clermont, Toulon, Leinster, Munster, Toulouse and Montpellier. I see Sarries having a big one, their squad is so strong that they have to be big contenders.
I don't really see any dark horses unless Glasgow can carry their good Pro12 league form over to the Heineken Cup, which could be possible given their pool opponents, which include Cardiff Blues and Exeter Chiefs as well as Toulon.
Harlequins seem to lack the firepower and explosiveness they had two years ago. If they are to be a front-runner again what do you think is needed? Should they perhaps have invested in more talent to cover for the loss of players like James Johnston and others to add impetus to the squad? DKDom
Hi DKDom, Quins aren't the powerhouse of two seasons ago and I believe teams know that and can have a real go at them up front. Quins continue to play a fluid game, particularly the off-loading style, and if that's not executed well they let teams in with turnovers.
It's a fine line but I hope they continue in this vein; it will pay dividends. The loss of power up front is a leveller but their skill should see them through - maybe not against the likes of Saints and Sarries, but I don't think many teams will have much joy against those two this season.
Can you see any signs of hope for beleaguered Worcester fans; it is looking like a long season at Sixways? simonw34
Hi Simon34, clearly it's not the best start and whatever message Dean Ryan and his coaches are trying to get through to the team, there's a disconnect.
It wasn't going to be easy with so many changes in personnel on and off the field during pre-season; there has to be a getting-to-know-you period to get through. It's going to be hard yakka for the Warriors all the way, but just one win can change a season.
After the Rugby Championship, what do you think the current best XV in the world is? dancarter
Hi dancarter, it's not fair to pick a World XV because the northern hemisphere national teams haven't been playing. The outstanding players I saw were, for New Zealand, Ben Smith, Kieran Read, Steven Luatua and Aaron Smith. Ben Mowen, Israel Folau and James Horwill shone for Australia. Juan Manuel Leguizamon, Pablo Matera and Nicolas Sanchez played well for the Pumas. For South Africa, Bryan Habana, Willie Le Roux, Zane Kirchner, Jean de Villiers, Duane Vermeulen, Francois Louw, Fourie Du Preez, Adriaan Strauss and Eben Etzebeth all caught my eye.
There have been many critical comments about referees in recent weeks, but is it time to congratulate Nigel Owens on his outstanding contribution to the South Africa v All Blacks game last Saturday? It was an excellent display of game management by probably the number one referee in the world at the moment. He combines excellent decision-making with empathy for what the players are trying to do. Wrexhamstalwart
Nigel was spot-on at the weekend; some of his comments to the players were brilliant and his handling of the substitution situation, where a player came on who wasn't named on the signed-off team sheet, was first class - common sense prevailed.