Stuart Lancaster: Rugby league can improve England players
Last updated on .From the section Rugby Union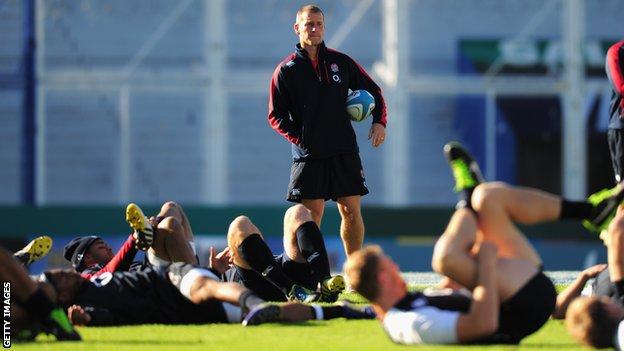 England head coach Stuart Lancaster says he will turn to rugby league to help his players reach the same level as New Zealand and South Africa.
Lancaster went on a fact-finding mission to Australia and New Zealand in August to visit leading league clubs.
In particular, he thinks a lot can be copied to boost England's try-scoring.
"We have a huge amount to learn from rugby league, particularly in terms of attacking and core skills," Lancaster told BBC Radio 5 live.
"Sometimes we can forget about the core skills bit. League is rugby in the simplest form in the sense that it's about great defence, great tackling technique, good handling, good passing, catching and great kicking.
"I think they concentrate on the basics better than us. You only have to look at some of the tries scored in the Grand Final last weekend."
Lancaster spent time in Sydney with the Roosters and the Rabbitohs and also went to see Melbourne Storm before observing Australian Rules Football following England's tour to Argentina.
The 43-year-old, who will be a keen observer of the forthcoming Rugby League World Cup, plans to take further inspiration from the other code.
"I have been hugely influenced by rugby league and I'm a massive league fan," said Lancaster, who observed Leeds Rhinos at close quarters while director of rugby at Leeds Carnegie.
"You look at the number of coaches that have come from rugby league into rugby union and influence the game, the list goes on.
"We have had the likes of Kevin Sinfield and Jamie Peacock come and speak to our players."
Lancaster also wants to create a rugby union culture similar to that of world champions New Zealand and believes there is room for significant improvements in what it means to play for England.
"New Zealand have a strong emphasis on culture and identity," he added.
"The shirt means a huge amount to them. Playing for New Zealand is huge and the players are great role models for the country.
"We have a lot of work to do in that area. Real emotional glue brings a team together. And we have tried to look deeper into the history of our shirt.
"I wrote to five or six former players from the 1950s onwards to help us reconnect with what the shirt means, about what it means to play for England."