Heineken Cup row affecting players' future, warns agent
Last updated on .From the section Rugby Union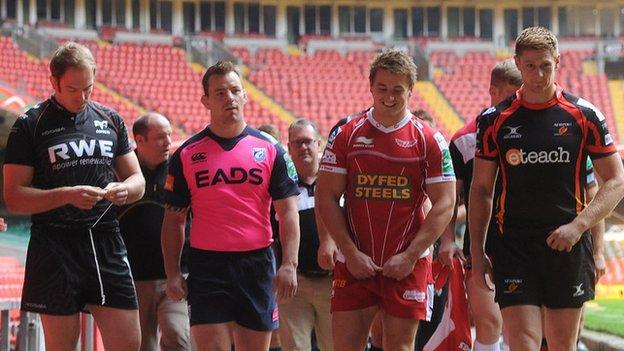 Agent Tim Lopez has warned that some players are waiting to see what happens to the Heineken Cup before deciding their futures.
English and French clubs have plans to create a new tournament next year, with no agreement yet if Pro12 teams will take part.
"The Heineken Cup as it is now is the best global club competition and players will want to be involved in that or its successor," said Lopez.
"It's affecting the market."
Lopez represents Cardiff Blues full-back Leigh Halfpenny, who is out of contract at the end of this season and has been linked with a possible move to French Top 14 side Toulon.
The agent declined to comment on the future of his own clients, but Lopez did concede that the row over the future of Europe's cross-border tournament is affecting the thinking of players who are close to the end of their contracts.
"At the moment there are plenty of grey areas for everyone involved," added Lopez.
"It does lead to a position of where you have to assess your options and facts before you can make your decision and at the moment those facts aren't at our disposal, so the sooner that can be resolved the better for everyone really.
"If you take a current Wales international or even an England international or Scottish international, they want to make sure they're playing in top-level club competition and they want to be involved in that cross border high-level elite [tournament].
"If that isn't there for them, first of all it affects whether they want to play for a certain club, but it then affects their ability to then make a transition up to Test rugby.
"Some of the quality of games we see in the Heineken is as good as Test rugby on occasion, so there's no better preparation for Test rugby if you want to be a top international player.
"Anyone who's involved in international rugby with particular regard to the Welsh, the Irish, Scottish and Italian teams, they're going to want to know where they're playing.
"If they're not playing in a meaningful or the best cross-border competition then it's going to be putting them in a very difficult positions in some cases.
"As soon as the battle lines can be drawn or established then at least these guys can make an informed decision, instead of trying to decide about their futures with one hand tied behind their back."
Lopez, who has high-profile southern hemisphere clients including New Zealand duo Dan Carter and Richie McCaw, also hinted that New Zealand, South African or Australian sides could take advantage of the uncertainty in Europe.
"It's a global market now," he added.
"I wouldn't be surprised if teams from other championships, who are perhaps more certain about where their future lies, aren't casting covetous glances over at British-based players."