Ex-Harlequins' Mark Evans warns Welsh rugby over Heineken Cup row
Last updated on .From the section Rugby Union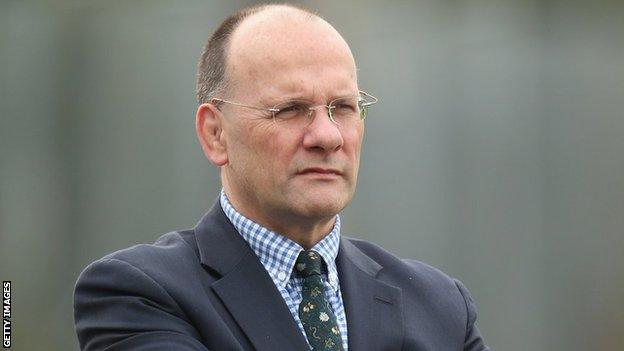 Ex-Harlequins chief Mark Evans says Welsh rugby could have averted problems caused by the current by joining a British League.
After rugby union went professional in 1995, a competition involving English, Welsh and Scottish teams was proposed.
But legal problems and in-fighting saw British League plans shelved.
"That opportunity was spurned for a number of reasons back in the mid to late 90s and I think we're back there," Evans told Radio Wales Sport.
Evans, originally from Cardiff, was chief executive at Harlequins until 2011 and now fills that role with Melbourne Storm in Australia.
English and French clubs will quit the Heineken Cup next year and have proposed the rival Rugby Champions Cup.
The Welsh, Scottish and Irish rugby unions have all said they will block their teams playing in any cross-border tournament that is not sanctioned by the International Rugby Board.
The uncertainty over what competitions they will be in next season is already causing problems for the four Welsh regional teams.
The leading example is Wales and British and Irish Lions captain Sam Warburton, who is one of several senior Welsh players out of contract with their Welsh regions at the end of this season.
The flanker says he wants to stay with Cardiff Blues, but adds the region has beyond this season as they cannot plan a budget because of uncertainty over Europe.
And top agent Tim Lopez, who represents the Blues' Leigh Halfpenny amongst others, says players are waiting to see what happens before making decisions.
Meanwhile Evans says the situation has echoes from the 1998-99 season, which saw Cardiff and Swansea rebel against the Welsh Rugby Union - resigning from the Welsh League and playing friendlies against English clubs instead that year.
The two clubs had refused to sign a 10-year participation agreement with the WRU and were unhappy that Welsh rugby's governing body and its English counterpart - the Rugby Football Union - had ruled out a British League.
Peace was restored the following season, with Cardiff and Swansea returning to the Welsh fold.
Wales now has four regional sides - the Blues, Ospreys, Scarlets and Newport Gwent Dragons - as its top professional tier, which play in the Pro12 with Irish, Scottish and Italian teams.
Evans warned Welsh rugby again faced a crucial crossroads.
"It's a strategic decision for the Welsh Rugby Union... you could go back a long way, 15 years or so, and say strategically Wales got it wrong," Evans said.
"Do you want to align yourself with a market of 50m [people] or do you want to align yourself with a market of 10m?
"Anyone working in sports marketing anywhere in the world trying to build their sport will say: 'I'll align with the 50m.' That would be a lot more sensible.
Evans added: "If I'm honest the errors of the 1990s are now coming home to roost in a major, major way and I think it's quite hard to see how Wales will prosper."
Evans does not believe any of the Welsh teams will rebel and try to break away from the WRU.
"Wales is not a big enough economy to have a split between its national team and however many other - it doesn't matter whether you call them clubs or regions," Evans said.
"Where do Wales' best interests lie in the long run? As opposed to traditional and historic [links]?"
But Evans feels the governing body must do all it can to build secure financial future for the game in Wales, even if that means acceding to the demands of the English and French clubs.
"I think you'd struggle to make the case that there is some kind of historic, traditional link between Wales and the other Celtic unions as opposed to Wales and England or Wales and France."
"I've been away a long time but we've got 2m people in south Wales, it's a relatively poor area of Britain.
"Why is it revolutionary to align yourself to get the best commercial returns for the country that you represent?"