Heineken Cup: Dan Biggar says Ospreys point loss 'unacceptable'
Last updated on .From the section Rugby Union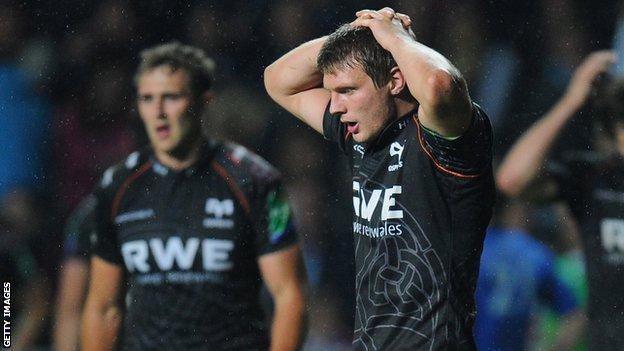 Dan Biggar says the Ospreys' inability to take a bonus point from Saturday's was "unacceptable".
The fly-half says they conceded a "silly" late penalty which opposite number Jimmy Gopperth kicked.
Biggar also rued hooker Richard Hibbard's failure to pass when close to the line early on.
"To leave with nothing is not good enough and it's not acceptable," said the Wales international.
Biggar kicked two early penalties, but his team succumbed to a Sean O'Brien try and Gopperth's five successful kicks at goal.
The defeat left Biggar disappointed that the hosts did not threaten Leinster's line often enough, leaving them without a try in two successive games.
"It's difficult to pinpoint one thing, but I think apart from when Hibbs [Hibbard] probably should have given that ball in the corner in the first 20 minutes, we very rarely threatened their line.
"And that's disappointing. Leinster didn't give many penalties away to us and it's difficult to keep the scoreboard ticking over when teams don't do that.
"So I think that's the main disappointing factor. We didn't challenge Leinster enough close to their line.
"I thought we played some decent stuff, not brilliant stuff by any means, in the middle third.
"It's a silly penalty to give away right at the end and that's about boys learning, but we haven't got time to learn at the minute.
"It's about boys learning in the moment and to leave with nothing is not good enough and it's not acceptable.
"We pride ourselves on a strong set-piece and kicking game and we pick up some cheap points from penalties at scrums and different things like that.
"But it's something we've got to look at. We didn't score [a try] this week. We didn't score [a try] last week.
"We need to be challenging teams more and it's a big thing for us to work on."
However, Biggar believes the Ospreys' defence is functioning well and says they must be confident of winning at Northampton on Sunday, 20 October in the second round.
He added: "It's just penalties which are really, really hurting us.
"We're in good positions, we're giving penalties away and then all of a sudden we're 10 metres from our line and facing a shot at goal or under the sticks after conceding a try.
"That's a big, big disappointment. We're giving far too many penalties away and we didn't create enough.
"It's a huge setback but there's a lot of character in this squad and we've been written off plenty of times before.
"We seem to come back stronger after having some bad press or criticism so I think it's important that the boys stick together now because we're going to need a 22-23 man effort to go up there and pick up a result.
"Is it critical? No. It's something which we can get back.
"We have to believe we can win at Northampton and that puts us back on the road. If we manage to pick a result up we'll be in with a 50-50 chance [of progressing to the knock-out stages]."
who travel to Leinster in the next round.