Phil Bennett fears for Welsh regions with Heineken uncertainty
Last updated on .From the section Rugby Union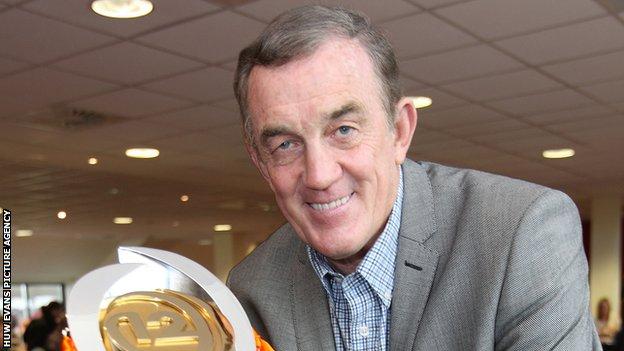 Wales legend Phil Bennett fears his country's regions could go bust if they are left without European competition.
No agreement has yet been reached as to whether Rabodirect Pro12 teams - involving sides from Wales, Ireland, Scotland and Italy - will be included if the new competition goes ahead.
"Without the European Cup the regions could fold," Bennett warned.
"It's now time that the Welsh Rugby Union got together with the regions and say, 'this mustn't happen - you've got to be strong'.
"The WRU have to have money coming in, they've handled their monies remarkably well - they've brought the debt down greatly - but at the end of the day we must have strong regional rugby in Wales.
"We can have the... Pro12 which is great, but I can see the English and French clubs have got a point that most of the teams qualify and go straight into Europe.
"Believe me, to see the games against Munster we've [Scarlets] had at Stradey Park and Parc y Scarlets, Clermont and all these stars there, without European rugby we're going to die."
Former fly-half Bennett, who won 29 caps for Wales and eight for the British and Irish Lions between 1969 and 1978, also fears that the greater financial strength of English and French clubs, married to the row over the future of Europe's cross-border tournament, is affecting the thinking of players who are close to the end of their contracts.
"There are a load of players up for contract at the end of the season. Typical example: Northampton, loads of money - all the English clubs are loaded - they pinch our star player George North," said the 64-year-old.
"Guys like Jonathan Davies, our centre, who made the big furore on the Lions tour and got in instead of [Brian] O'Driscoll, he's out of contract this season.
"Jonathan needs to be paid well and he wants to be in a side that's challenging for trophies.
"So it's a big season for the Welsh Rugby Union to get their act together for the regions, all of us to get together and even at the grassroots level where we're struggling we've got to be united.
"As a small nation, united we're strong but split us apart and we're useless, so I'm hoping for the best.
"Knowing the English clubs like I do... it's going to be hard, some hard bargaining done at the table.
"But if the competition is to be a success I think it needs the Celtic nations in it to have the flavour that it has now.
"I think a deal will be done. I think it'll go down to the very last minute and I think the English clubs and the French clubs will come out of it very well, but I think the Celtic nations have to realise it's a bit lop-sided at the moment."