Edinburgh: Alan Solomons 'is rugby's Sir Alex Ferguson'
Last updated on .From the section Rugby Union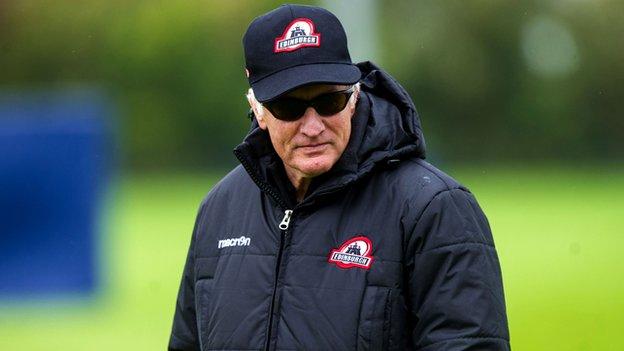 Edinburgh have got themselves the Sir Alex Ferguson of rugby in new head coach Alan Solomons, according to defence coach Omar Mouneimne.
Since taking charge in the summer, Solomons has stressed that he faces a rebuilding job with the Pro12 squad.
And his fellow South African thinks he is capable for doing for Edinburgh what Ferguson did for Manchester United.
"Alan is the consummate professional. He's a workaholic, he puts his life into rugby," said Mouneimne.
"I can assure you behind the scenes, literally 24-7 he's working tirelessly to recruit, to manage systems, to manage the staff, to manage the players, to create an environment that's absolutely nothing short of what Ferguson could have done for Manchester United.
"That's the mentality, that's the man you're dealing with.
"Down the line, a year or especially two years, if they give him the time, he has the inclination, he can develop this region into one that's known to be a championship side."
Mouneimne pointed to Solomons' success as assistant with the South African national team and the Stormers before periods in charge at Ulster, Barbarians, Northampton Saints, Kings and Eastern Province Kings.
"Alan Solomons is an understated guy whose results speak for themselves," said Mouneimne, stressing his bosses' reputation gained as a "fixer-upper" of teams in crisis.
"He's not the out-there type of guy. What he'll do is behind the scenes, he'll gradually edge forward until he gets the results.
"If Alan is allowed to make the progressions that he wants to make, which is a) recruiting, b) making sure the players are looked after right, c) can pull through from the Scottish talent and is giving the timeline to manage those factors, I think he'll end up with some some stunning results and a team that's worth watching and a team to be admired at the end of a two- or three-year streak."
The since Solomons was appointed has had some pundits fearing for the future of home-grown talent at Murrayfield.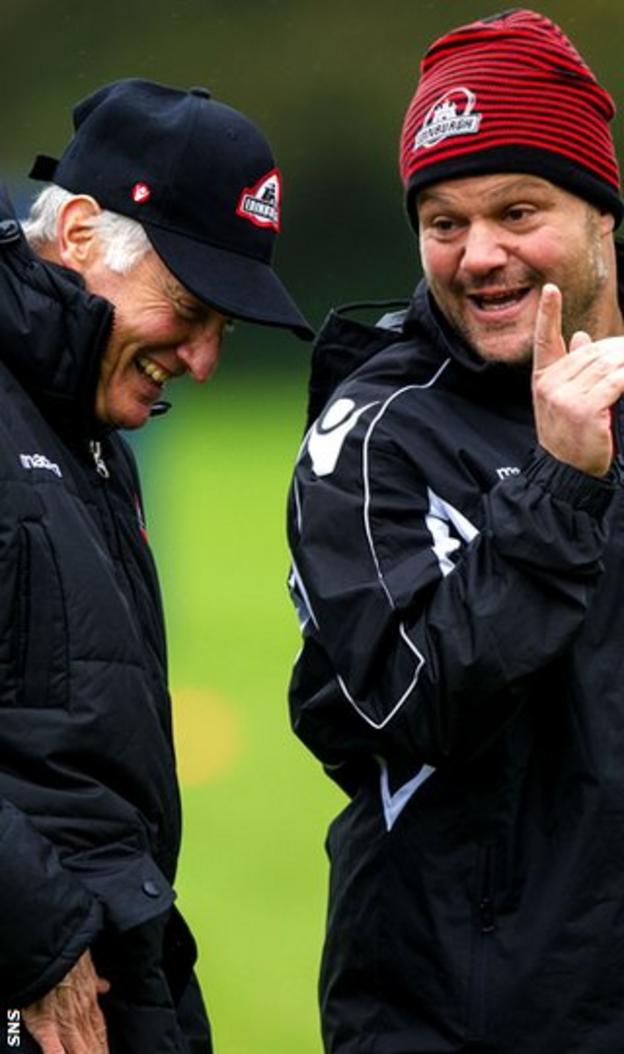 "I think the Scottish players are highly talented," insisted former Italy assistant Mouneimne. "I think these guys have been on the back of a few hard seasons and maybe their confidence is a bit low.
"If you look at any of the French teams, if you look at Toulon from the weekend, I think three guys were French who started the game.
"They've got a highly cosmopolitan side - there's a lot of French sides got a lot of foreigners from around the world.
"It's not for me to criticise how they play or how they recruit, but I want to say that, if there's Scottish talent, Alan will mine it out and we'll use them and develop them to their maximum potential.
"From time to time in certain positions, you might need outsiders. We have to accept that we need to mix it up a bit, but I tell you now that these guys want to prove that they belong here and these Scottish guys do have talent."
Edinburgh are bottom of the Pro12 with only one win in five games but opened their Heineken Cup campaign with a
"There have been green shoots of improvement throughout the whole team," said Mouneimne.
"So the fact we won in the end in a game like this against a world-class team like Munster just validates that we are on the right track.
"But we're not getting ahead of ourselves - there's too much work to be done still.
"Psychologically, it's huge because the players want to know what they're doing is working and want to believe in the coaching staff."