Jeremy Guscott Q&A: Scott Williams a superstar in the making

By Jeremy Guscott
Rugby Union analyst, BBC Sport
Last updated on .From the section Rugby Union258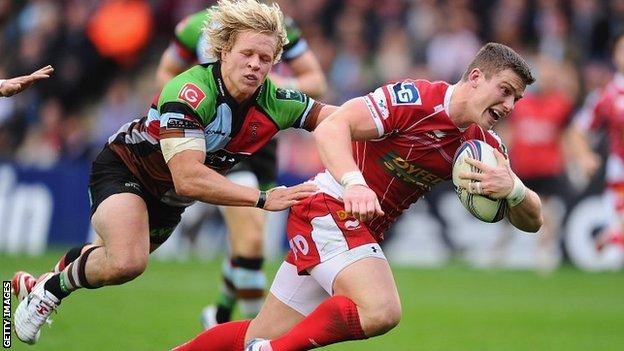 Among the topics making the headlines this week are:
- Heineken Cup champions Toulon's claims to be the best club side ever
- New Zealand dual-code international Sonny Bill Williams opting to stay in league and return to union in 2015
- Scotland facing the prospect of losing full-back Stuart Hogg for the autumn internationals
Jeremy, two simple questions. Which team gave the most impressive performance over the weekend, and which players stood out? When considering teams I would rate the Scarlets, Edinburgh or Exeter's performances as better than Toulon in so far as they exceeded expectation, whereas Toulon performed as expected. Not2serious
I agree with your selections and also that the Toulon result was expected. The list of players who stood out for me is very long.
I will pick out Scott Williams' performance for Scarlets in their match against Harlequins. His try was spectacular. It's not very often we see a centre dummy, show and go and sprint away from defenders to score. It was sheer class from the young man - he is definitely a superstar in the making.
Jerry, I used to think that your Bath squad with 18 or 20 internationals could never be bettered as a club squad. However, having looked at the Toulon 23, and considered the others left out, this has to be the strongest club squad ever. Do you agree and how would they get on against the current Kiwi and South African national teams (I am taking beating the rest as read!)? Rellis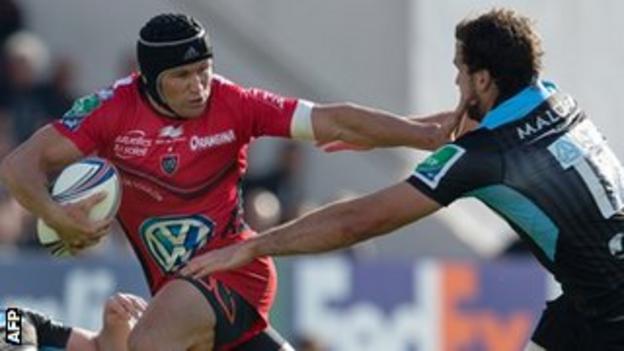 Without doubt the Toulon squad assembled is the strongest I have seen in recent times but they have lost three games already in the Top 14 this season. Having a team full of superstars doesn't guarantee them all the trophies on offer.
What Toulon achieved last season was the beginning of what they will hope will be a very successful era. I do know that on their day there are at least half a dozen teams in the Heineken Cup this season that could take them.
As for the All Blacks and South Africa, Toulon need to dominate domestically and in Europe for a few seasons before thinking they would be a match for the number one and two sides in the world.
Jerry, what is it that makes Exeter Chiefs such a good side, despite their lack of stars and international players? After taking the Cardiff Blues apart in the Heineken Cup and a good start to the domestic season, it's certainly not luck. TapperJones
I believe it's the culture and work ethic installed by head coach Rob Baxter and chief executive Tony Rowe. It's similar to Leicester Tigers in that they select players who they feel will best fit in with their ethics, and not the other way around. It's a fantastic model that is working and neutrals are very happy to see their success.
Jeremy, do you think the decision of Sonny Bill Williams to stay in rugby league for at least one more season is a wise one if he hopes to make the All Blacks squad for the 2015 World Cup? Hamish
Hi Jerry, what should the All Blacks do over the Sonny Bill Williams saga? In my opinion he should concentrate on one sport, then he could become a great. JamesB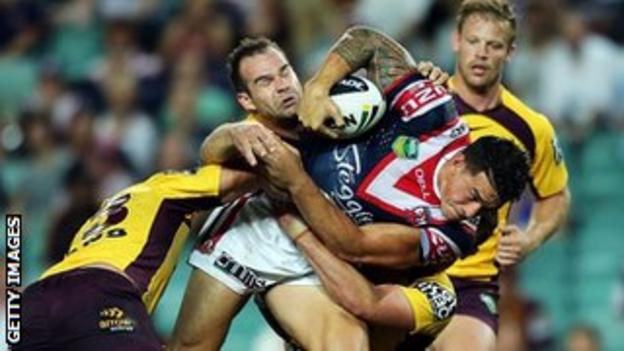 Sonny Bill Williams is one talented rugby player who excels in league and union. We can only begin to understand the dilemmas he must face in trying to choose which sport to play, where and when. He's made his choice and for him it's the right one because it allows him to concentrate and move on from the speculation.
He knows when he goes back to union in New Zealand in 2014-15 that he won't just walk into the NZ side. While I was in Australia covering the Lions tour I watched a bit of NRL and he has been outstanding throughout the season. Let's enjoy the talent that is Sonny Bill Williams - whether he plays league or union, he's a joy to watch.
Hi Jerry, It seems to me that pool six has been blown wide open with Gloucester and Edinburgh, the two underdogs in the group, winning at the weekend. Would you agree or are Munster and Perpignan strong enough to bounce back? Frankthetank
With Munster and Perpignan at home this week I would expect the teams to be much closer by the end of play. I still expect the group to be decided between Perpignan and Munster, with Perpignan slight favourites at the moment.
Jerry, how far will the Scarlets go in the Heineken Cup? Also what do you make of Rhys Priestland's performance on Saturday? Proud Celt
Scarlets have a big job ahead but the win at Harlequins was so important to give them the confidence that they can beat some of the best in Europe. Any team drawn in the same group as Clermont knows it is going to be really hard to qualify. If Scarlets qualify it would be a bit of a shock.
I thought Priestland looked solid. He has shown before he has the ability and class, and I hope he's in a good place mentally. Wales coach Warren Gatland likes him, so it will be interesting to see whether he picks Dan Biggar or Priestland for the autumn internationals.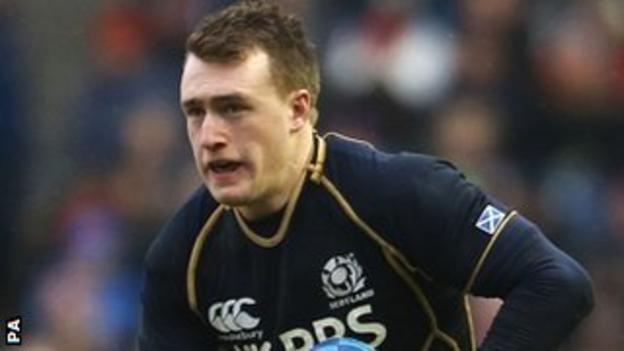 Hi Jeremy, what do you think of Scotland's chances in their autumn internationals and how much of an impact do you think losing Stuart Hogg will have? Katie P
I would say if Scotland play at their best then they should beat Japan comfortably, have a very good chance against Australia but will lose to South Africa.
Losing Stuart Hogg is without doubt a blow but it gives someone else an opportunity and they will relish it.
Hi Jeremy, how much do you agree with Stuart Lancaster's comments that union could learn from league? There certainly have been some tactics that have crossed over in recent years (Bowe's try for Ulster from Jackson's cross-kick at the weekend for example), which as a fan of both codes I certainly don't see as a bad thing. Will you also be keeping an eye on November's Rugby League World Cup? Kalgoroth
The passing in rugby league is far superior to rugby union so, yes, that's a big area in need of improvement. When Lancaster says union can learn from league and mentions core skills, I would be embarrassed if I had a team whose skills weren't up to scratch. In fairness, there should be a few embarrassed coaches out there.
Union teams work far too long on set-piece and defence and have forgotten the art of how to score tries. It takes time to coach attack and it appears few teams have the time or knowledge, which is a shame. I will be watching some of the Rugby League World Cup - league has some seriously talented players who I enjoy watching.
Jerry, do you think it slightly dispiriting that many people seem to be arguing that Harlequins should abandon their predominantly home/self-grown and developed policy in favour of splashing the cash in order to reverse their poor form? I personally like Conor O'Shea & Co's approach and hope for an upturn in form soon. Herbie Chapman
You can't please everyone all of the time and Quins supporters are going through a phase of adjustment. After winning the Premiership in 2011-12, they probably believed it was going to be the beginning of a good run of success. It hasn't, so you start looking for reasons why not.
Quins didn't handle the 2012-13 season well. It looked like second-season syndrome and they really wilted towards the end. I don't see O'Shea deviating from his plan and I like the way Quins play - they just need a bit more power in the front five to be more competitive.
If you have a question for Jerry, on any rugby-related topic, post it in the comments section at the bottom of the page. He will answer as many as possible in the next day or two but not every question submitted can be used.