Launceston coach Cliff Rainford puts emphasis on defence
Last updated on .From the section English Rugby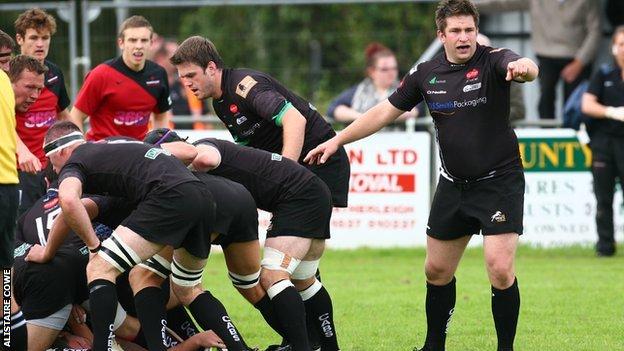 Launceston coach Cliff Rainford says his players have focused on defence as they prepare to face Clifton.
The Cornish All Blacks have conceded an average of 29 points a match in the league so far this season.
Rainford is happy with his side's form with ball in hand after last week's 34-33 win over Bishop's Stortford.
"If you score five tries you know your attack's going well, so we have to cut down the errors that give chances to opponents," he told BBC Radio Cornwall.
"We looked at the DVDs and we need to tighten up our defence. If we can do that we'll have a well-rounded game."
Launceston are still awaiting their first away win of the season and hope it will be fourth time lucky on the relatively short trip to Clifton, near Bristol.
"We're confident we can turn things around," said Rainford, who expects to be without Liam Yeo after the winger picked up a rib injury.
"It's only three away games and they were three long journeys; two of those games we let slip rather than being well beaten so we've just got to transfer our home form to the away trips starting on Saturday.
"We'll go there with confidence. It always helps to have a shorter trip. When guys finish work on a Friday and then have to jump straight on a coach and travel for six hours, it's difficult.
"Whether that plays on the mind I don't know, but it's a closer trip this weekend and makes it that bit easier.
"Clifton always put a strong side out and are a hard side to play. It's always a hard game there and I doubt it will be any different this season.
"If we're on form and take our best game then we shouldn't have any problems."