Welsh players 'anxious' over future, says Quentin Smith
Last updated on .From the section Rugby Union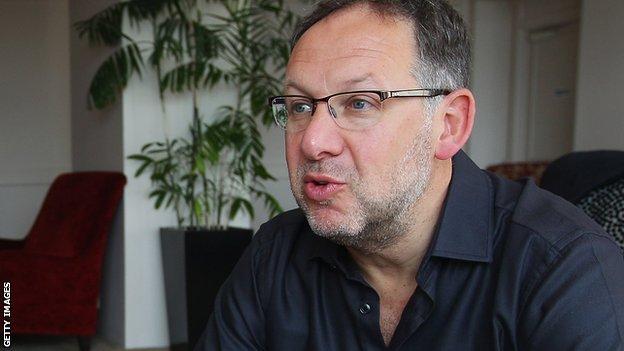 Premiership Rugby chairman Quentin Smith has warned that the current Heineken Cup row could cause more players to leave the Welsh regions.
English and French clubs have plans to create a new tournament next year, with no agreement yet if Pro12 teams will take part.
Smith says the uncertainty may force more Welsh players to reconsider where to play their rugby in future.
"Nobody wants to go abroad, that's an illusion," Smith said.
"There are a lot of top Welsh boys who are very anxious about where they are going to ply their trade.
"I know from my 10 years at Sale Sharks and we had a Welsh revolution there because Kingsley [Jones] took over after Philippe Saint-Andre moved.
"We had some outstanding Welsh players come up - Lee Thomas, Dwayne Peel, [Andy] Powell.
"But they want to play in their own jurisdiction and compete for international honours.
"Nobody wants to whizz off to Japan for an extra £100,000 if they can manage their contracts properly.
British and Irish Lions George North, Dan Lydiate and Jamie Roberts are among the players who have left Wales in recent seasons to join richer French and English clubs.
But players' agent Tim Lopez - who has Wales and Lions full-back Leigh Halfpenny, plus New Zealand pair Dan carter and Richie McCaw as clients - has already warned that some players are waiting to see what happens before deciding their futures.
"We want the regions and the Welsh Rugby Union to able to afford to keep the Welsh players in Wales and to give them the opportunity to prosper - financially and competitively and have a career that develops," Smith added.
"Because it's a short career and their success as rugby players will be for their benefit for the rest of their living days."
WRU group chief executive Roger Lewis has warned of dire consequences for the game in Wales unless the future of European rugby is resolved.
English and French clubs intend to quit the Heineken Cup and have proposed the rival Rugby Champions Cup next year, but European Rugby Cup Ltd (ERC) wants to preserve the current tournament.
The English and French clubs object to the current set-up for a number of reasons, including qualification and the way revenue is shared.
BBC Wales understands the Welsh regions want to know the likely outcome before they enter a new participation agreement with the WRU.
Smith said the proposed new competition has attracted interest beyond England and France.
"We've opened the doors to everyone else in Europe," Smith added.
"There is a lot of interest and frankly we're not surprised. We've had discussions with all sorts of people
"What's difficult for everyone else is that any other team that is talking to us or would like to join is having to have difficult conversations with respective unions.
"Each of the unions issued a press release and made it abundantly clear that no team could participate without their blessing.
"We know that everyone else is having those conversations. It's unlikely we will know exactly where anyone is until later this month.
"There was a meeting called by European Rugby Club for next week, 23 October. We're [the English clubs] not going and the French clubs aren't going.
"But there's a good chance that others will go and I suspect nobody will want to, for want of a better term, break cover before they've been through that meeting."