Warren Gatland doubts Anglo-French Heineken Cup rival
Last updated on .From the section Rugby Union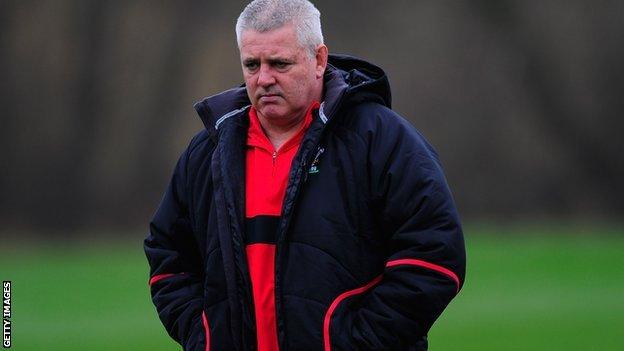 Wales coach Warren Gatland has warned that English and French clubs' attempts to set up a breakaway tournament from the Heineken Cup will fail.
The Rugby Champions Cup, due to start next season, is a result of Anglo-French frustrations with Heineken Cup qualification and revenue sharing.
"I don't see an Anglo-French competition being successful or lasting that long," Gatland told BBC Jersey.
"I think all parties want full representation from all the countries."
The new tournament could yet include teams from Scotland, Wales and Ireland, but the Pro12 sides need their unions' approval to take part. The Welsh, Irish and Scottish unions are, in turn, waiting on the International Rugby Board's (IRB) endorsement.
New Zealander Gatland, who was appointed to the Wales post in 2008 after spells with London Wasps and Connacht as well as Ireland, believes a tournament that includes only English and French clubs will damage the international game in the northern hemisphere.
"There needs to be some sort of protection for a Scottish or Italian team potentially," he added. "Without their involvement we could see an impact going into the Six Nations."
The 50-year-old also believes that plans for the Rugby Champions Cup may have overlooked difficulties in securing officials for matches.
The English Rugby Football Union (RFU) are still uncommitted to the new tournament and their French counterparts actively oppose it.
"The referees are controlled by the unions and France have said they would not support a new competition, while the RFU have sort of stood on the fence," Gatland added.
Quentin Smith, the chairman of England's top-level Premiership, and Tim Lopez, agent to the likes of Wales and Cardiff full-back Leigh Halfpenny, have warned that the uncertainty over top-level European rugby is affecting players' decisions over contracts at Welsh regions.