Heineken Cup: Scottish Rugby has no fears over changes
Last updated on .From the section Rugby Union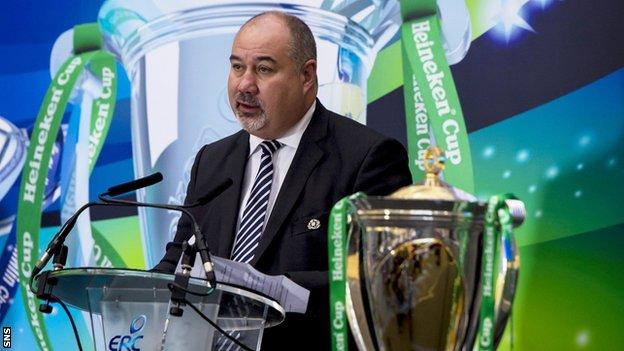 Chief executive Mark Dodson insists Scottish Rugby is "not frightened of meritocracy" amid plans to change how clubs qualify for European competition.
The Rugby Champions Cup, due to start next year, is a result of Anglo-French frustrations with the Heineken Cup.
But Dodson insists strong performances in the Pro12 are key to Glasgow Warriors and Edinburgh's participation.
"We believe if Edinburgh finished 11th last year, they should not be involved in the Heineken Cup," said Dodson.
"When I first came here, I said I would focus on professional rugby as well as the international team.
"The targets we have been setting for both Glasgow and Edinburgh are for them both to be in the top four of the RaboDirect Pro12.
"So for us to say we are against meritocracy would be crazy because our ambitions are to be challenging in the Rabo every year."
English and French clubs object to the current Heineken Cup qualification criteria and the way revenue is shared. As things stand, Glasgow and Edinburgh are automatically entered to the competition.
The new tournament could include teams from Scotland, Wales and Ireland, but the Pro12 sides need their unions' approval to take part.
The Welsh, Irish and Scottish unions are, in turn, waiting on the International Rugby Board's endorsement.
"What we would like to do is ensure that there is a rounded and fair solution," added Dodson.
"We are prepared to look at meritocracy and some of the other tweaks that might need to be made to allow that to happen.
"But don't let anyone be under any doubt, we are working very hard to make this work.
"There has to be give and take. It can't be all take or it won't work.
"We understand, we need to modernise and I have some sympathy with the English clubs' predicament. But they are working with a mix of models.
"It doesn't work only the way the French and English leagues work. The Celtic and Italian clubs are run in a fundamentally different way."