Heineken Cup: Bradley Davies felt father's wrath after Blues loss
Last updated on .From the section Rugby Union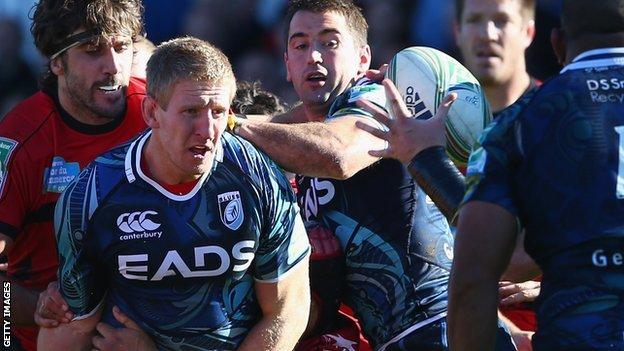 Cardiff Blues lock Bradley Davies took a critical phone call from his father after their Heineken Cup last weekend.
The Wales lock hopes to avoid a repeat following
The Blues conceded five first-half tries at Exeter, although they did respond with four of their own.
"It was difficult Monday morning... having my father on the phone telling me how poor I was," said Davies.
"But we're professional rugby players and we've got to take criticism on the chin. Sometimes that happens in sport and in life - you do things that you don't really want to do.
"But that's the way it happens. The best thing we can do is stick together, which we have all week.
"If we look at why it went wrong, it was more down to player errors and that's down to us."
In the wake of the defeat by Exeter left and
Davies welcomed Toulon's visit, saying the Blues were encouraged by Pro12 leaders and rivals Glasgow's four-try bonus point in their opening in the south of France.
The 26-year-old Davies, capped 40 times by Wales, added: "We like to test ourselves against the best in the world so let's bring them on.
"Let's fly into them and if we can get a result - which we're planning on doing - we're straight back in the group, really.
"It's never over until you play all your games, but if you lose at home in Europe you're struggling.
"So if we can win on the weekend we're right in it.
"I don't know what it was [at Exeter], a bit of lack of whatever.
"It just didn't happen for us… and we've had a bit of a rocket this week so we can fly into them on Saturday.
"It's difficult if someone tells you how poor and rubbish you are to your face.
"That's fine, people have got their views and opinions and rightly so.
"If you're a Cardiff Blues fan you want to see us doing well and we appreciate that.
"But there's no-one trying as hard as us and we train like demons sometimes to get it right on the field, and sometimes it doesn't [work].
"So we've got to try to eradicate some of those errors in our game and once we can we'll be a match for anyone.
"[If] we win on Saturday we'll be [in the eyes of some] the best team that's ever played for Cardiff [Blues], so that's what we're striving for."