Cornish Pirates relish British & Irish Cup clash with Ayr
Last updated on .From the section English Rugby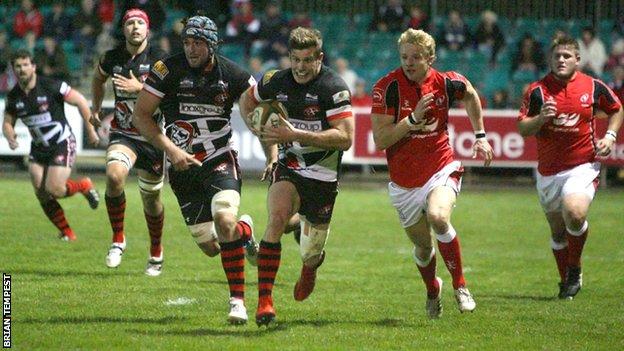 Cornish Pirates head coach Ian Davies says he has no concerns over the travel involved in Saturday's British & Irish Cup clash with Scottish side Ayr.
The Scottish town is nearly 400 miles away from Penzance, and the Pirates are flying to Scotland on Friday.
"Anywhere we go is a hike - our local derby is Plymouth and that's two hours away," he told BBC Radio Cornwall.
"Let's enjoy the experience - we've never played Ayr before and we like the British & Irish Cup because of this."
Ayr should provide a strong challenge for the in-form Pirates, and Davies said he was well aware of his opponents' pedigree.
"They won everything last year, they're Scottish champions and Cup winners and have strong links to Glasgow.
"I watched their game against Jersey last week and they played some fantastic stuff.
"It's all about challenges and meeting those challenges."
Aaron Carpenter switches from number eight to hooker, with Joel Conlon, Alex Cheesman and Jake Parker forming the back row.
Craig Holland returns at full-back in place of Kieran Goss - while lock Neale Patrick and the centre pairing of Alex Dancer and Tom Hendrickson all make their competitive debuts for the Pirates.
"It's a chance for those guys to see what being a Pirate is all about," added Davies.
Cornish Pirates: Craig Holland; Mike Pope, Alex Dancer, Tom Hendrickson, Matt Evans; Angus Sinclair, Gavin Cattle (capt); Keiran Davies, Aaron Carpenter, Ben Prescott, Will Graulich, Neale Patrick, Jake Parker, Alex Cheesman, Joel Conlon.
Replacements: Tom Channon, Shane Cahill, Peter Joyce, Darren Barry Joe Atkinson, Keiran Hallett, Keiran Goss.
Ayr: Grant Anderson (capt); Craig Gossman, Robbie Fergusson, Dean Kelbrick, Richard Dalgleish; Ross Curle, Peter Jericevich; Denford Mutamangira, David Young, George Hunter, Graham Williamson, Scott Sutherland, James Eddie, Peter McCallum, Callum Templeton.
Replacements: Stuart Fenwick, Nick Cox, D'arcy Rae, Graham Fisken, Murray McConnell, Kerr Gossman, Danny McCluske.