British & Irish Cup: Stirling County v Plymouth Albion (Sat)
Last updated on .From the section English Rugby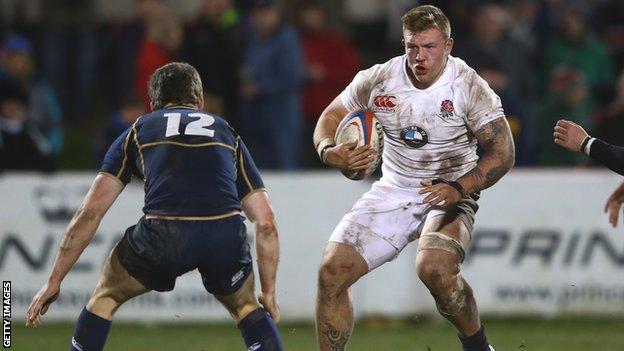 Plymouth Albion head coach James Shanahan admits the British & Irish Cup clash with Stirling County on Saturday will be a step into the unknown.
"We pretty much know nothing about Stirling. We are just focusing on ourselves this week and there is lots to work on," said Shanahan.
Albion make eight changes, with new hooker Max Crumpton set to start.
Centre Heath Stevens, fly-half Declan Cusack, scrum-half Ruairi Cushion and flanker Eoghan Grace also start.
Prop Dave Morton, number eight Herbie Stupple and centre Toby Howley-Berridge also earn recalls.
Stirling County: Addison; Lindsay, Russell, Archibald, Hughes; Edwards, McFarlane; Burney, Kennedy, Hutton, Larsen, Ryder, Robertson, Bordill, Ashe. Replacements: Moffat, Bhatti, McDonald, Swanson, Leishman, Hope, Pyrgos
Plymouth Albion: L Messer, L Warner, H Stevens, T Howley-Berridge, J Arnott, D Cusack, R Cushion capt, B Rogers, M Crumpton, D Morton, I Ascroft-Leigh, D Williams, E Grace, S Matavesi, H Stupple Replacements: D McGregor, T Harrison, H Tovey, W Carrick-Smith, D Mugford, P Rowley, C Elder