Aberavon-Bristol: Six-foot hole halts British & Irish Cup game
Last updated on .From the section English Rugby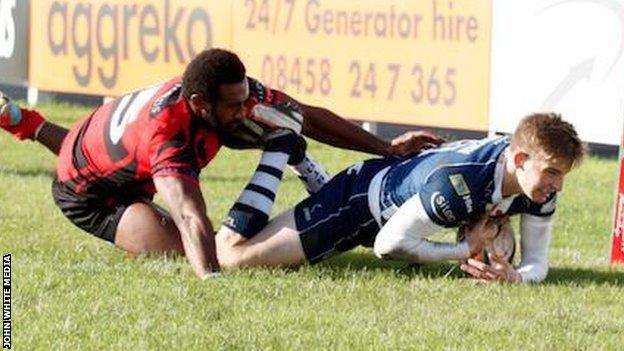 Bristol's British and Irish Cup game at Aberavon was abandoned after 69 minutes after a deep hole appeared on the Talbot Athletic pitch.
The visitors were leading 24-20 when the referee halted the game.
The ground staff spent 10 minutes trying to fill the hole, which Bristol described as six-feet deep, but it was deemed unsafe to continue play.
The organising committee will decide whether Bristol's bonus-point victory will stand or be replayed.
The decision is likely to be announced later this week.
Bristol team manager John Harrison told BBC Radio Bristol: "The referee had his attention drawn to what he thought was a divot, which transpired to be a hole which we think was going to some sort of drainage channel.
"The fire brigade provided turf and soil to fill it in but we were concerned for the safety of the players.
"The referee's decision in this competition is final and he decided to abandon the game. As far as the result is concerned, that has to go to the organising committee."
Bristol beat Leeds 21-17 in their opening pool match last weekend, while Aberavon secured a 31-17 victory over Gala.